Support your local history museum and win amazing prizes!
COVID-19 prevented us from having our typical annual Gala fundraiser so we got even more creative in our fundraising efforts. We took our amazing gift basket raffle and made it bigger and better than ever before!

Thanks to the generosity of our Board of Trustees who donated funds and the kindness of many Chagrin shop owners who still donated items, each basket is worth more than $500! Check out the listings for a complete run down of each basket's contents.
Tickets are sold in groups of six for $20. Please let us know below how many tickets you would like to put towards each prize. e.g.: 3 for #2, 1 for #5, 2 for #4. If you would like to buy more than one group of six, there will be an opportunity to adjust the quantity. If you do not want to purchase online you can mail us a check with a note regarding which baskets you want to put your tickets towards. You can also stop by with cash, check, or credit card! Please make checks out to: Chagrin Falls Historical Society; PO Box 515, Chagrin Falls, OH 44022.
Winners will be drawn on November 2, 2020.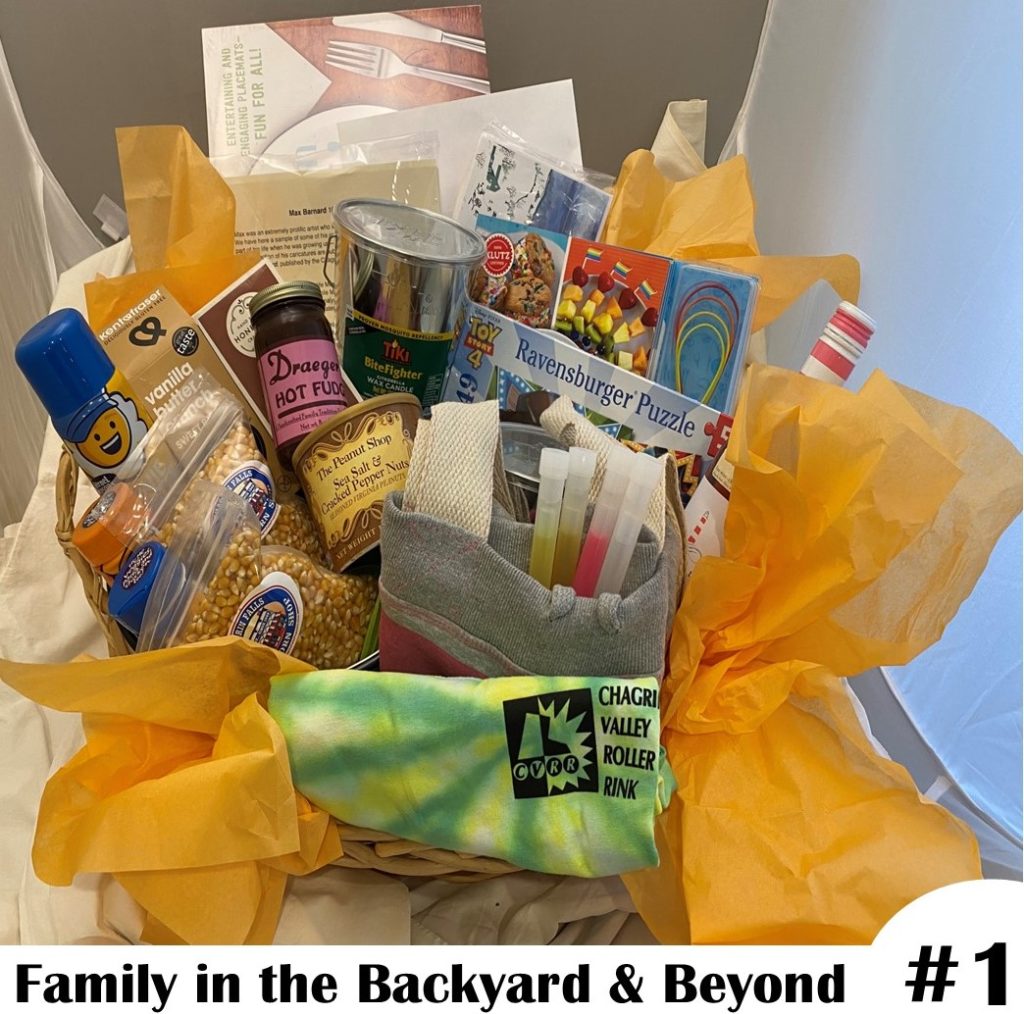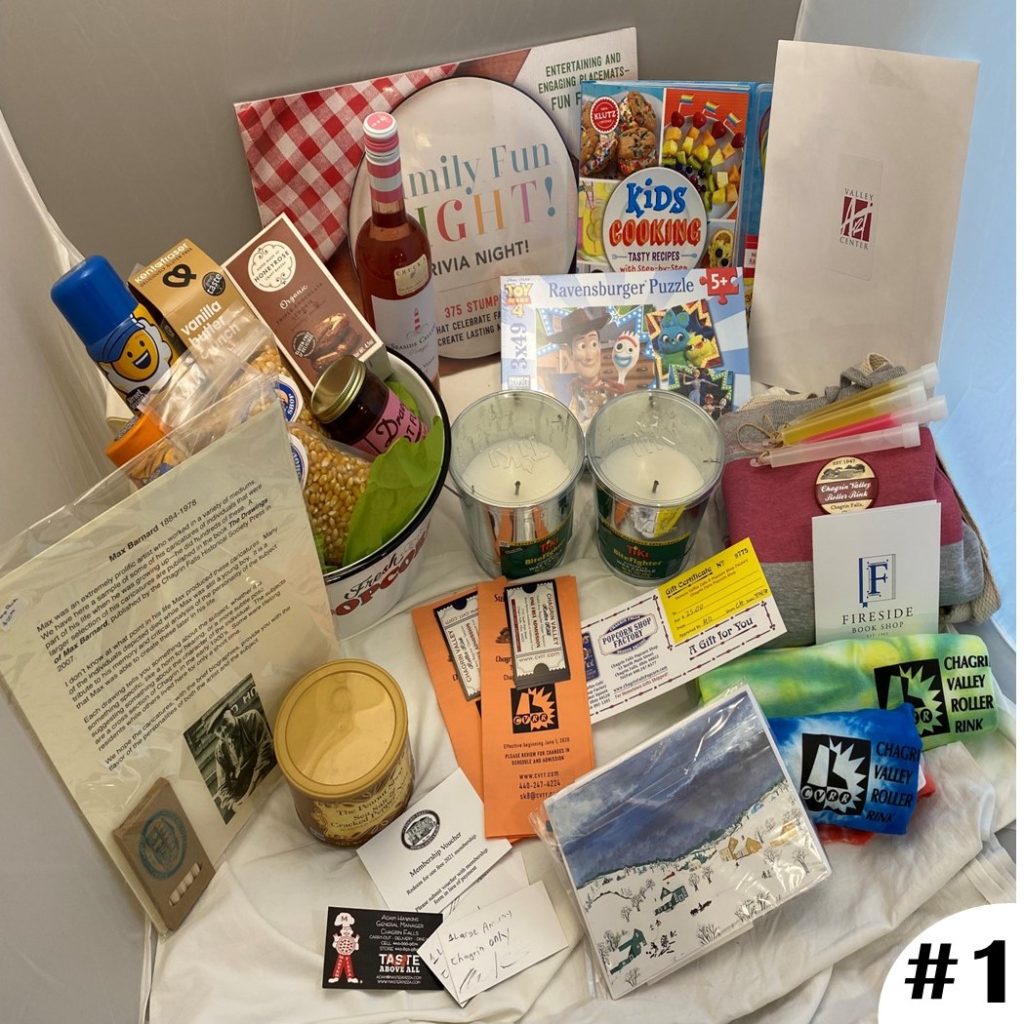 Family in the Backyard & Beyond basket contents
Chagrin Valley Art Center $100 gift certificate
Chagrin Valley Roller Rink package: 10 free admission passes, 2 tie-dye t-shirts (youth medium & youth large), tote bag, glow sticks, pin
The Popcorn Shop $25 gift certificate
Fireside Bookshop $25 gift card
Master Pizza gift certificates for 4 large pizzas
Seaside Cellars Rosé
Family Fun Night trivia placemats
Klutz Kids Cooking book
Popcorn bucket filled with popcorn & assorted toppings: movie theater butter, white cheddar, & nacho cheddar
Draeger's Hot Fudge Sauce
Sea Salt & Cracked Pepper peanuts
Gluten-free cookies: Vanilla Butter Crunch & Triple Chocolate
Ravensburger Toy Story 4 puzzle
2 citronella candles
Max Barnard folk art coloring kit & notecards
Chagrin Falls coloring sheets by local artist Pam Spremulli
Chagrin Falls Historical Society & Museum membership voucher
NOT PICTURED: Riverside Park ornament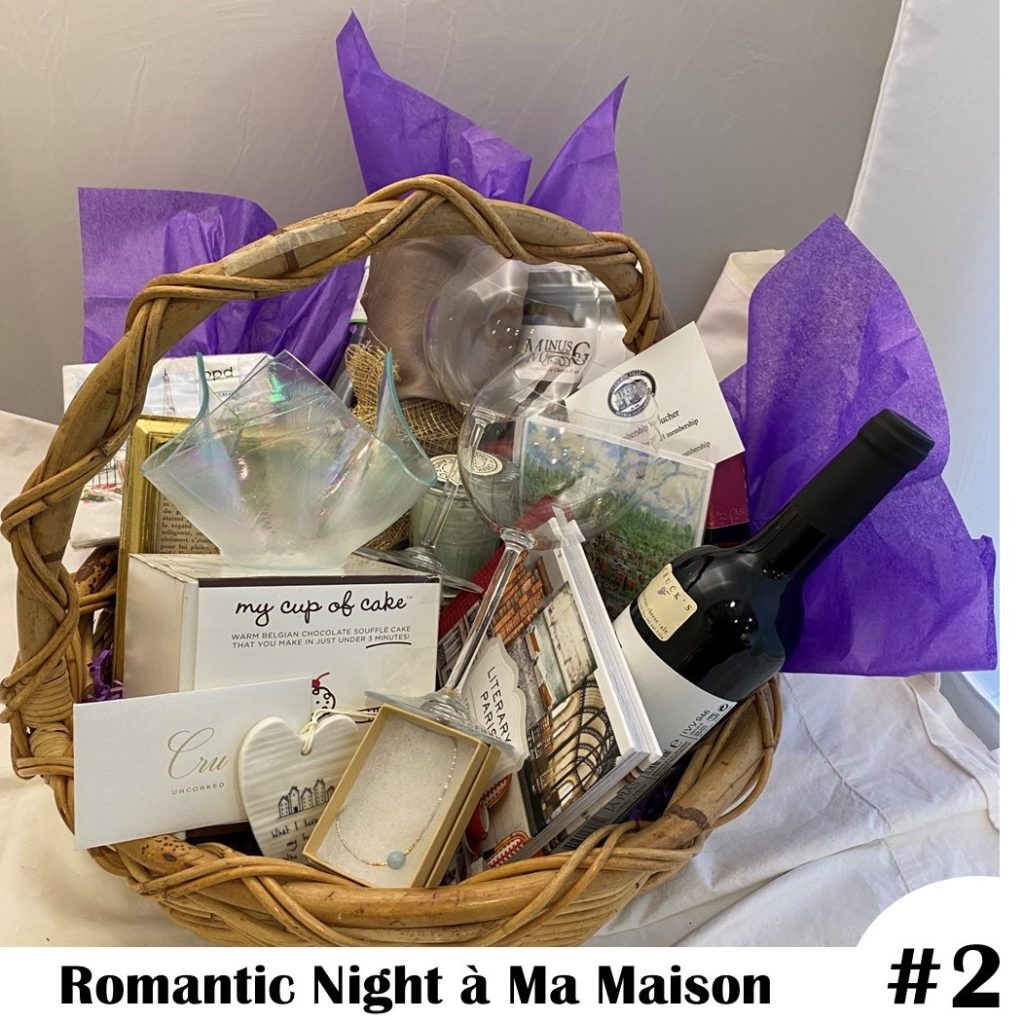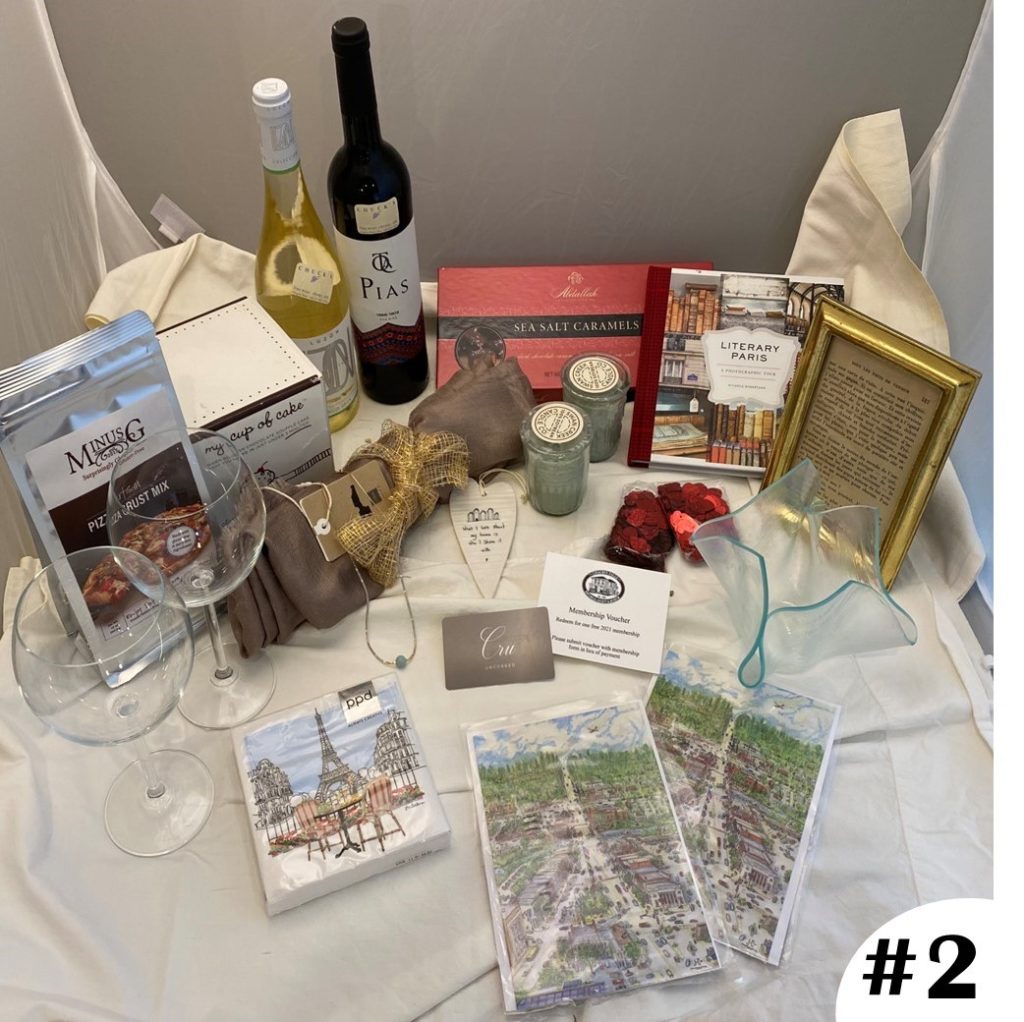 Romantic Night à la Maison basket contents
Cru Uncorked $200 gift card
4 hour limousine ride courtesy of Murphy Funeral Home

Just added

!

Chagrin Documentary Film Festival $75 gift certificate
Luzòn Coleccion Sauvignon Blanc
Jà Pias Red Wine
2

red

wine glasses
Gluten Free Pizza crust mix
Sea Salt Caramels
Belgian chocolate soufflé microwavable cake mix with ceramic mug
Eiffel Tower cocktail napkins
Free form iridescent art glass bowl
Silk blend

scarf

Beaded necklace
Literary Paris book
2 Swan Creek soy candles
Ceramic heart ornament
Framed French book art
Heart-shaped confetti sequins
Aerial View of Chagrin Falls notecards
Chagrin Falls Historical Society & Museum membership voucher
NOT PICTURED: Riverside Park ornament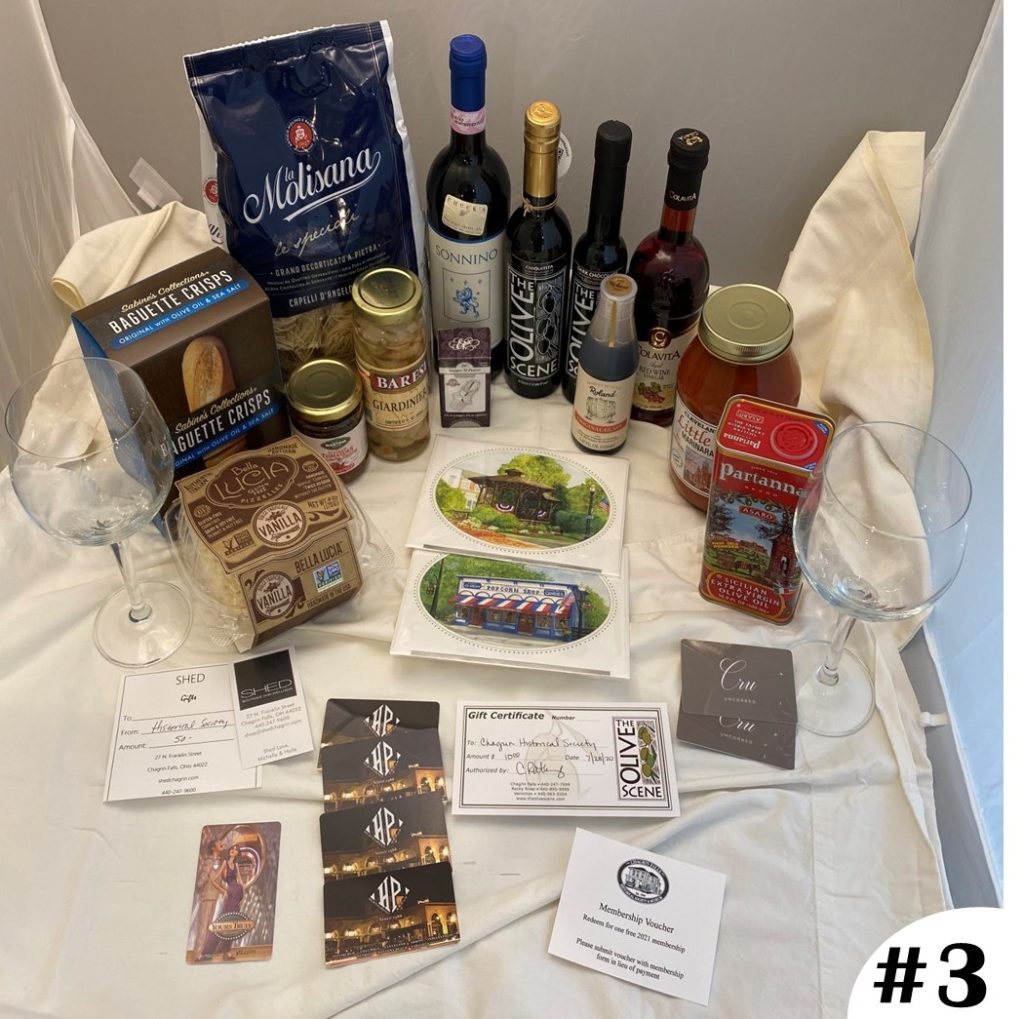 Dinner at the Godfather's basket contents
Cru Uncorked $40 gift cards
Hyde Park restaurant group $100 gift cards
Chagrin Valley Little Theatre certificate for 2 tickets to any CVLT Main Stage production.
Shed Boutique & Wellness $50 gift card
Yours Truly $25 gift card
Olive Scene $10 gift certificate
Sonnino Chianti Montespertoli
2

red

wine glasses
Bottle stopper/pourer
Capelli D'Angelo pasta
Little Italy marinara sauce
Giardiniera
Bruschetta Topping
Baguette crisps
Pizzelles
Sicilian Extra-Virgin Olive Oil
Chiquitita Extra-Virgin Olive Oil
Dark Chocolate Balsamic Vinegar
Balsamic vinegar glaze
Red Wine vinegar
Chagrin Falls notecards
Chagrin Falls Historical Society & Museum membership voucher
NOT PICTURED: Riverside Park ornament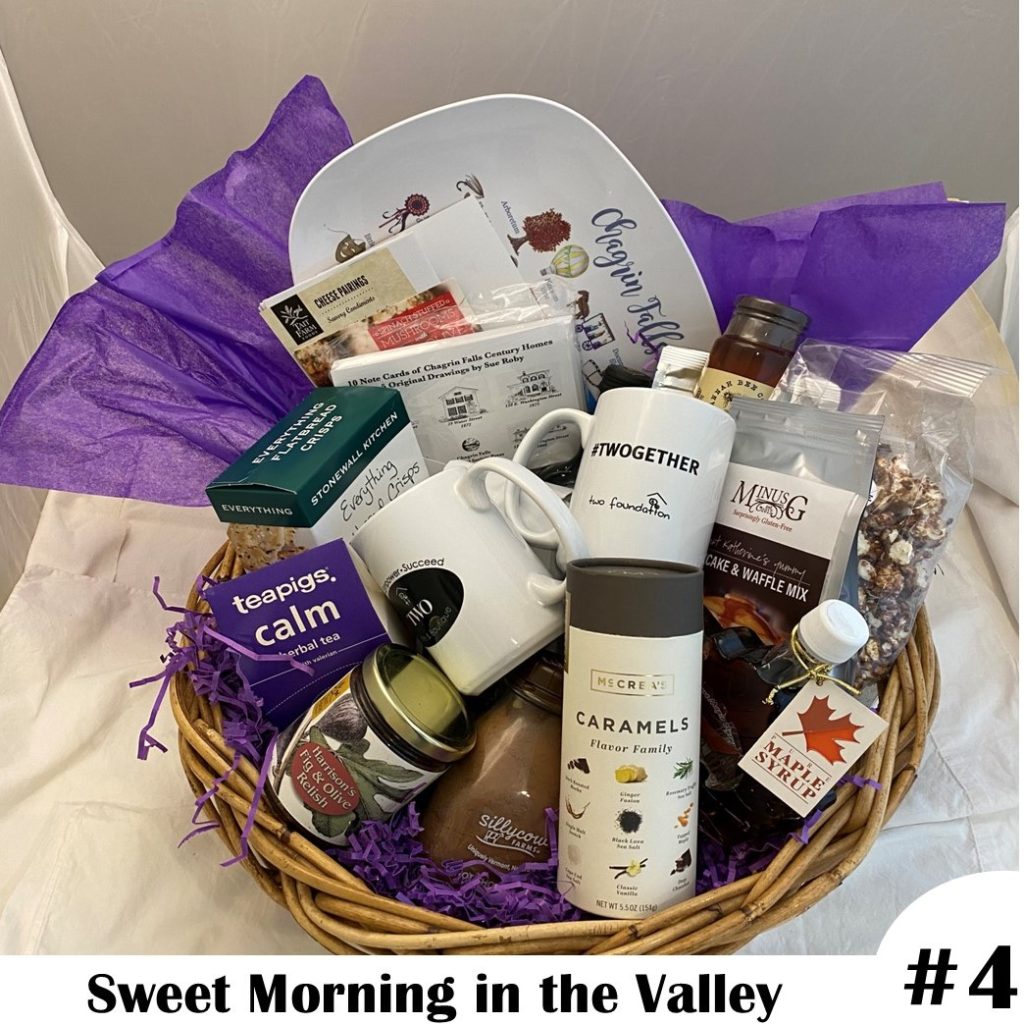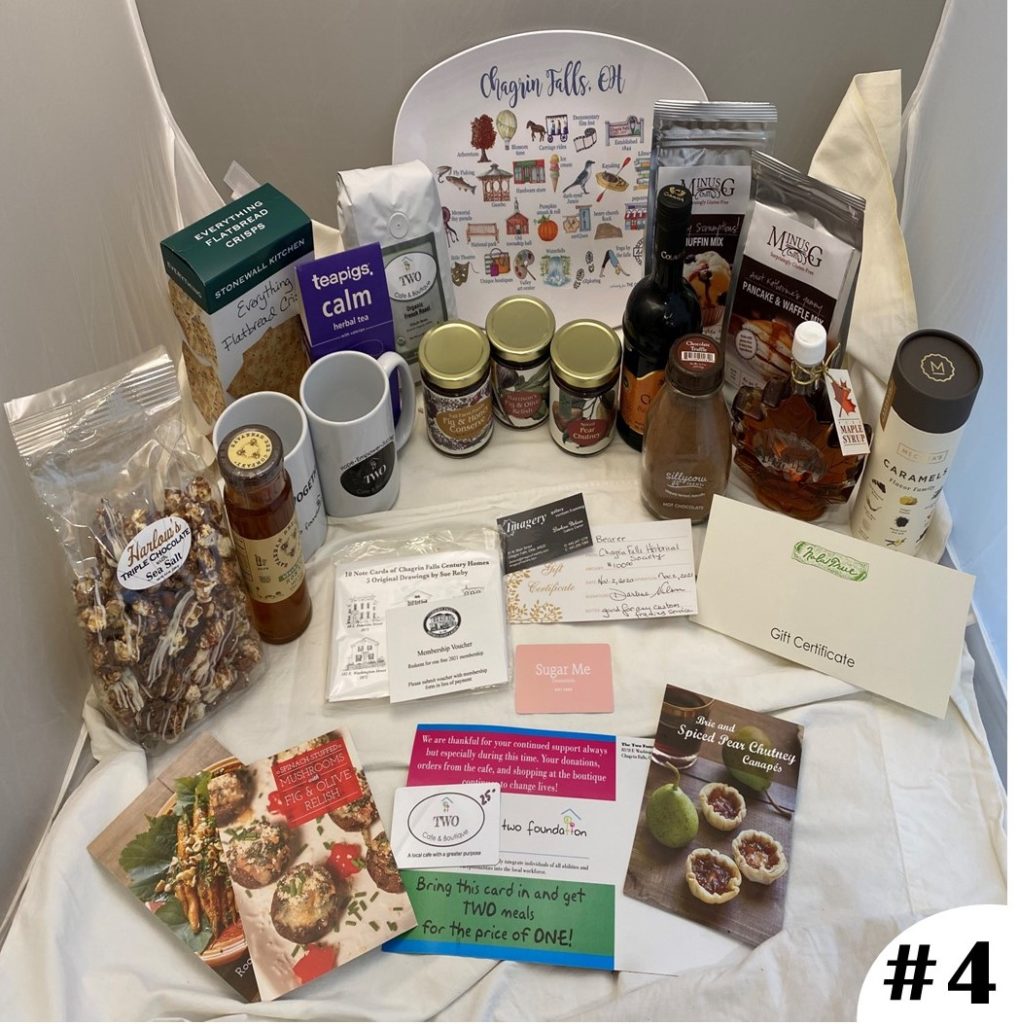 Sweet Morning in the Valley basket contents
Inn of Chagrin Falls gift certificate for the Jacuzzi Suite
Chagrin Arts $100 gift certificate
Imagery Fine Arts Gallery $100 gift certificate
Two Cafe $25 gift card
Sugar Me Desserterie $25 gift card
Nola True $25 gift certificate
Two Cafe Organic Whole Bean French Roast
Calm tea
Black Sage Honey
Hot Chocolate mix
2 mugs from Two Cafe
Chagrin Falls platter
Gluten-free Pancake & Waffle mix
Maple Syrup
Gluten-free Muffin mix
Flatbread Crisps
Fig & Honey Conserve
Fig & Olive Relish
Spiced Pear Chutney
Balsamic Vinegar
Triple Chocolate with Sea Salt popcorn
Flavored caramels
Historic Chagrin Falls Homes notecards
Chagrin Falls Historical Society & Museum membership voucher
Two vouchers for the 2021 Historic Home & Garden Tour
NOT PICTURED: Riverside Park ornament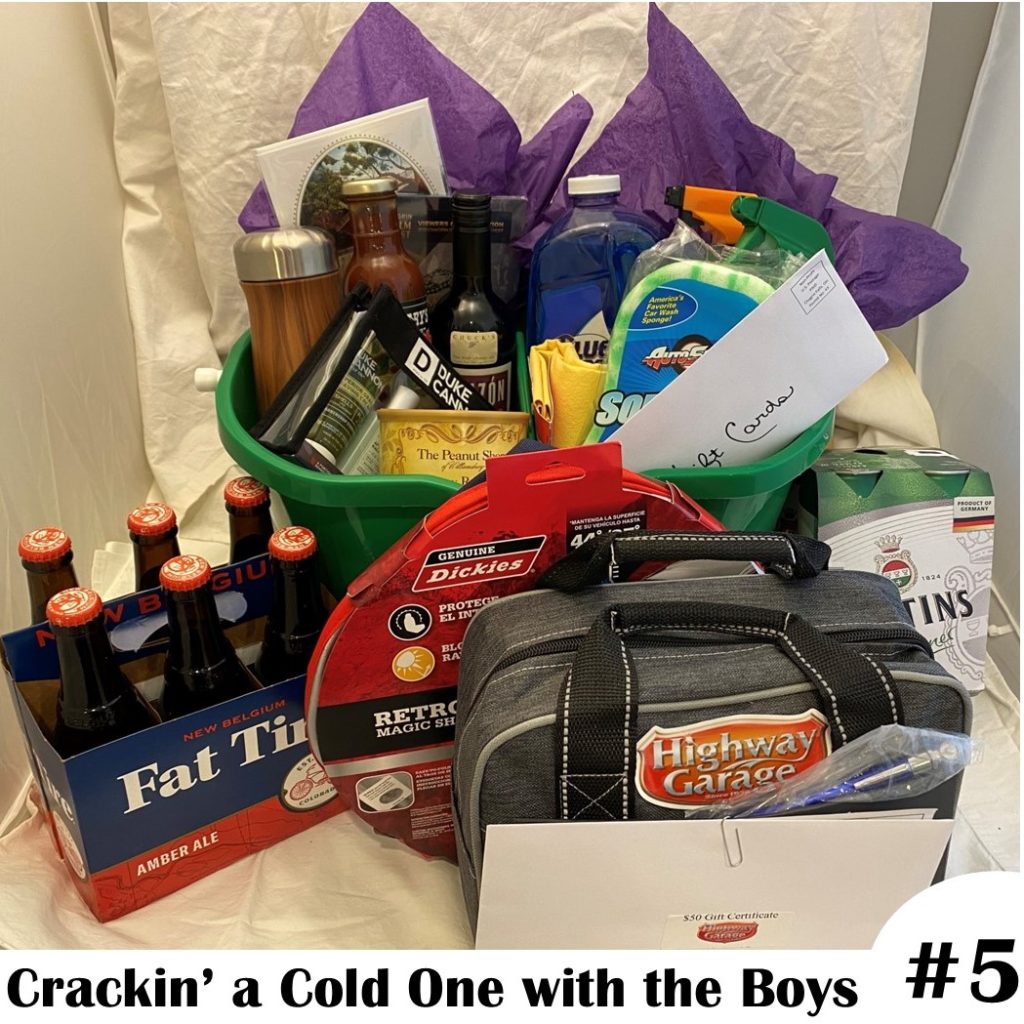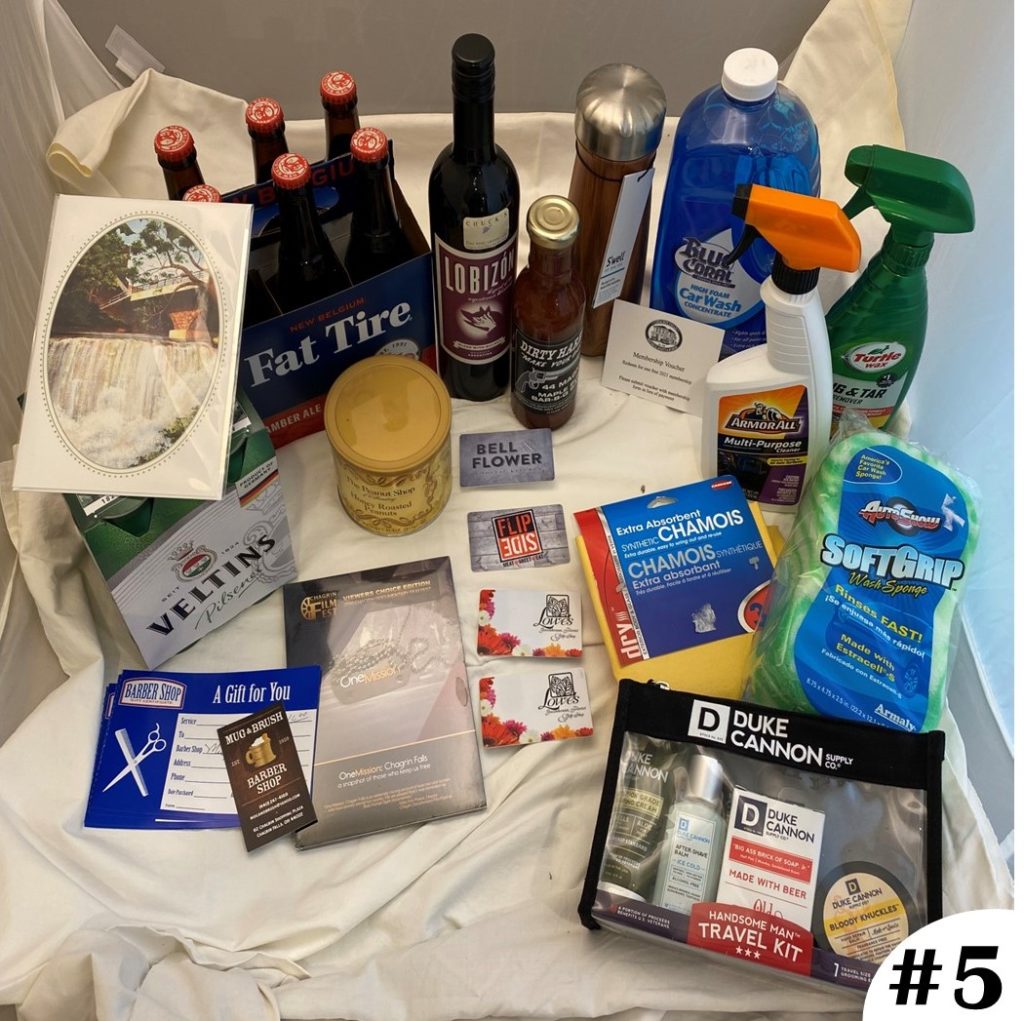 Crackin' a Cold One with the Boys bucket contents
Lowe's Electronics $250 gift card
Highway Auto Center complimentary oil change & 32 point inspection
Lowe's Greenhouse $100 gift card
Flipside $25 gift card
Bell & Flower $25 gift card
Town & Country Gifts $25 gift card

Just added!

Mug & Brush gift certificate for 4 haircuts
Fat Tire six pack
Veltins Pilsener four pack
Lobizòn blend with Malbec
Dirty Harry's Maple Sugar Bar-B-Que Sauce
Honey Roasted Peanuts
Wood grain S'well water bottle
Car wash concentrate
Armor All
Turtlewax Bug & Tar Remover
Car wash sponge
Chamois
Bucket
Car window sun shields
Roadside Emergency kit
Duke Cannon toiletries kit
One Mission DVD
Chagrin Falls notecard
Chagrin Falls Historical Society & Museum membership voucher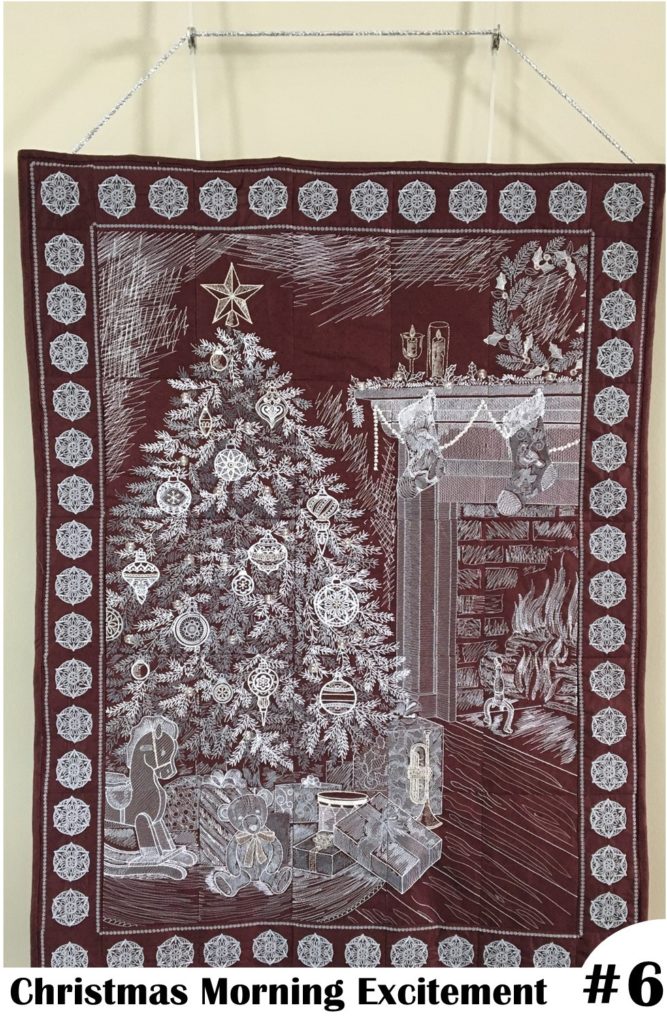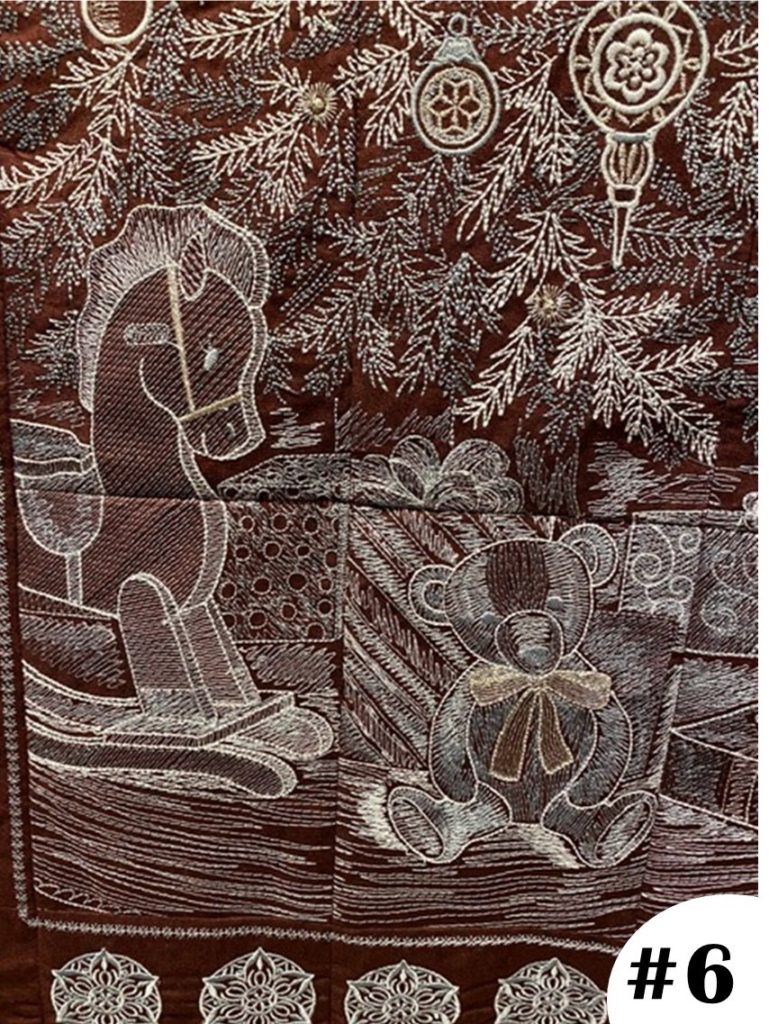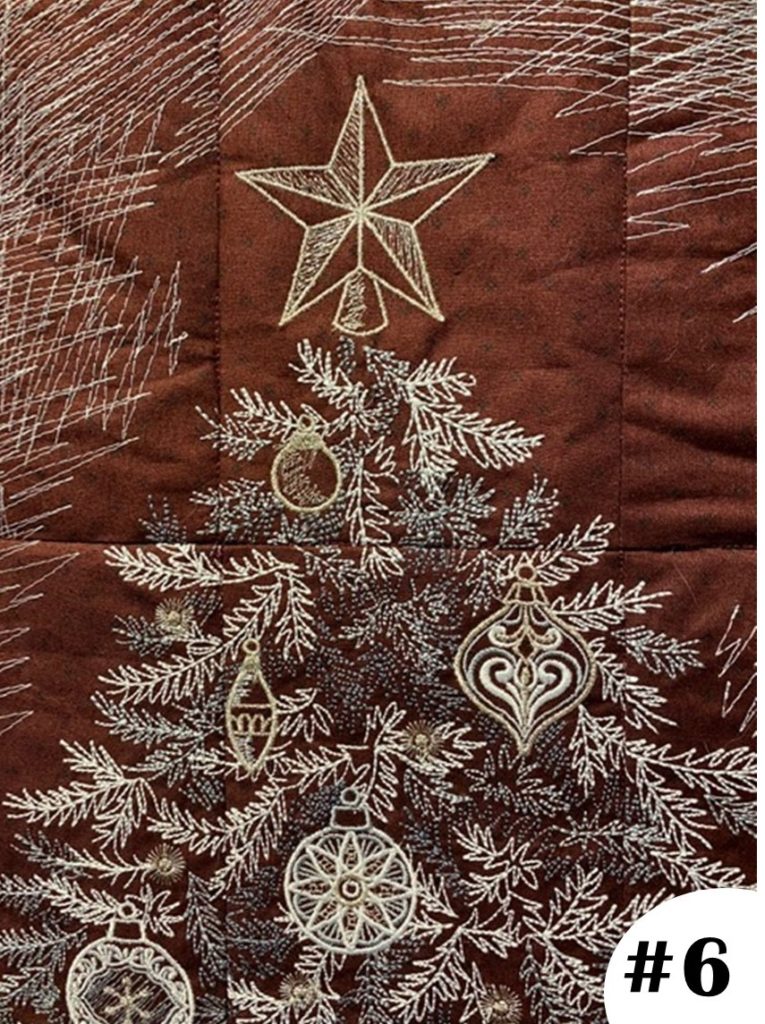 Christmas Morning Excitement Wall Hanging
This stunning 28.5″ x 38″ quilted wall hanging of presents under the tree in front of a roaring fire would be a gorgeous addition to any home's Christmas decor. A friend of the Museum devoted more than 30 hours to embroidering nearly 750,000 stitches in shades of white, silver and gold on the burgundy background. Another 20 hours of quilting time were then required to finish this elegant work of art. The value of the materials is approximately $200, but the artist's labor of love is priceless.