Did you hear the news? Due to the CARES Act from the federal government, individuals, including married individuals filing separate returns, can claim a deduction of up to $300 for cash contributions made to qualifying charities during 2021. The maximum deduction is increased to $600 for married individuals filing joint returns. Consider supporting your local history today!
Thank you for considering a donation to the Chagrin Falls Historical Society & Museum. The Chagrin Falls Historical Society is a Section 501(c)(3) organization supported by donations, grants, membership dues, and program fees. Your contribution is tax deductible to the extent allowable by law and will help support the mission of the Chagrin Falls Historical Society & Museum. Your gift is greatly appreciated.
There are different ways you can donate:
1) A donation in an amount of your choice via the Paypal link below, OR send a check to the Chagrin Falls Historical Society, P.O.Box 515, Chagrin Falls, OH 44022, OR call us at 440-247-4695
Join our 1833 Legacy Circle!
There are many wonderful options:
matching corporate gifts
gifts of stocks and bonds
annuities
real estate
An 1833 Legacy Circle Gift designated in your name can be for current use or establishing restricted funds for special purposes including (but not limited to):
Conservation of a specific Collection
Educational Programming
Scholarship Fund
Building Maintenance Reserve
Your gift may be at the level of a naming opportunity!
Please contact Executive Director, Ruth Zeager at 440-247-4695 or [email protected] for more information.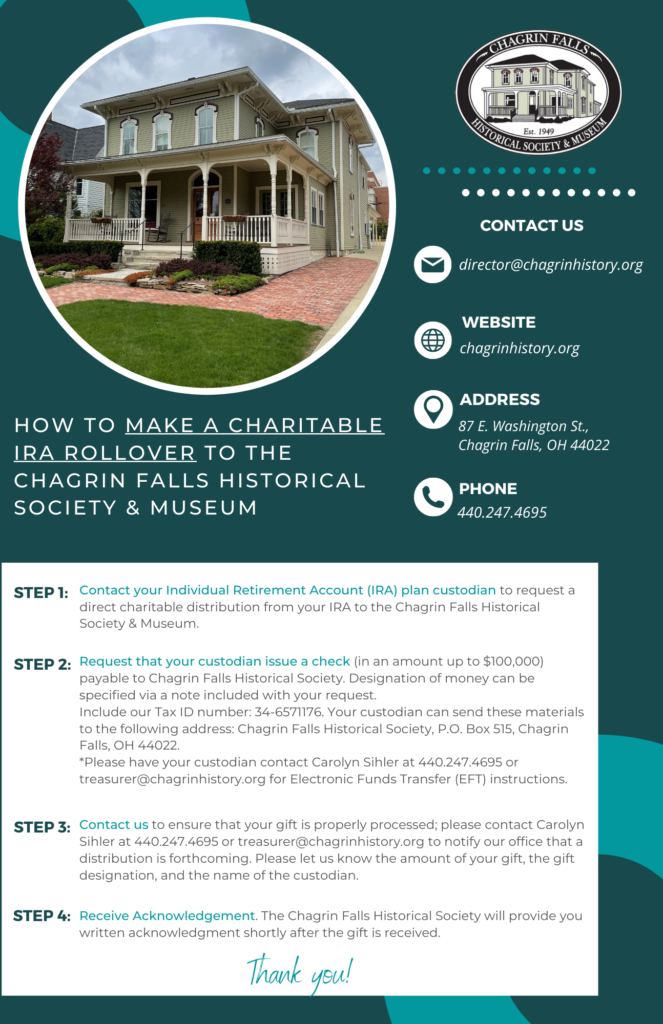 3) Charitable IRA Rollover
Are you taking a required minimum distribution from your IRA this year? If you are age 70 ½ and older you can make a Qualified Charitable Distribution (QCD) to the Chagrin Falls Historical Society & Museum and reduce your taxes.
Benefits of a QCD:
• Avoid taxes on transfers of up to $100,000 from your IRA to Chagrin Falls Historical Society & Museum
• Satisfy your Required Minimum Distribution (RMD) for the year
• Reduce your taxable income, even if you do not itemize deductions
A qualified charitable distribution is a simple and easy way for you to use your IRA to help the Chagrin Falls Historical Society & Museum's efforts to discover, preserve, and share knowledge about the history of Chagrin Falls and vicinity. You can help us achieve our goals all while also enjoying valuable tax savings.
4) Item Donations
We accept objects and photos on a limited basis. The Collections Committee meets to discuss items that are dropped off then will make a formal decision. You will be asked to fill out paperwork for the item when you drop it off, you can choose what the Museum does with the item if we do or do not accept it. If we accept the item, you will be mailed a donation form to fill out and return to our Curator. Please contact us at 440-247-4695 to discuss item donations. Thank you!