The Chagrin Falls Historical Society had its beginnings through the efforts of two librarians – Adria Humphreys, the Field Supervisor of the Chagrin Falls Branch of the Cuyahoga Library System, and Louise Ralston, the Chagrin Falls Branch Librarian. In 1949, members of the Library's 60 Plus Club, interested in Chagrin Falls' history, formed the Chagrin Falls Historical Society. They collected local memorabilia which was displayed at the Library, then located in the Village Hall. In 1950 membership increased to 21, and twelve people paid dues of $1 per year.
Left: A display entitled "The Good Old Days in Chagrin Falls" in the library, when it was housed in the Village Hall, spring 1947.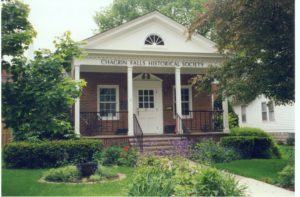 In 1951 the Historical Society's first public project was the restoration of the Village Bandstand. In 1953 Ohio celebrated its 150th year of statehood, and the Village celebrated its 120th birthday with a parade and a demonstration by the Fire Department in Riverside Park. In 1958 the Library moved to its new building on East Orange Street. A small upstairs room in the remodeled Village Hall was reserved for the Historical Society. In 1963 Lora A. Shute left a bequest to the Village of Chagrin Falls to build a community building with an area reserved for an historical museum. In October 1966 Chagrin Falls Historical Society held an Open House in the new Shute Building at 21 Walnut Street.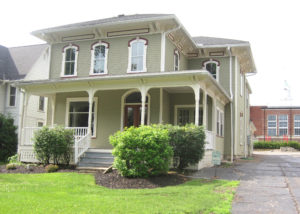 Around 2012 we learned that the police department  was considering using portions of the Shute building for their own expansion. Since we had outgrown our home in the Shute Building we began to look around for new space.
We eventually acquired the George H. Ober House at 87 E. Washington St., built in 1874 by Joseph O'Malley and owned by the Ober family until 1903. From 1940 until 2003 it was used as a funeral home. Most recently it had been converted into an office building.
The Society purchased the building in May of 2014. In November we held our first fundraiser in the building kicking off a 2 million dollar capital campaign. The Monday following the fundraiser, we began extensive renovations. We were able to begin the process of moving in to our new museum during the summer of 2015 and held another great event there on October 17, 2015, called An Evening at the 87 Club, A Roaring 20's affair.