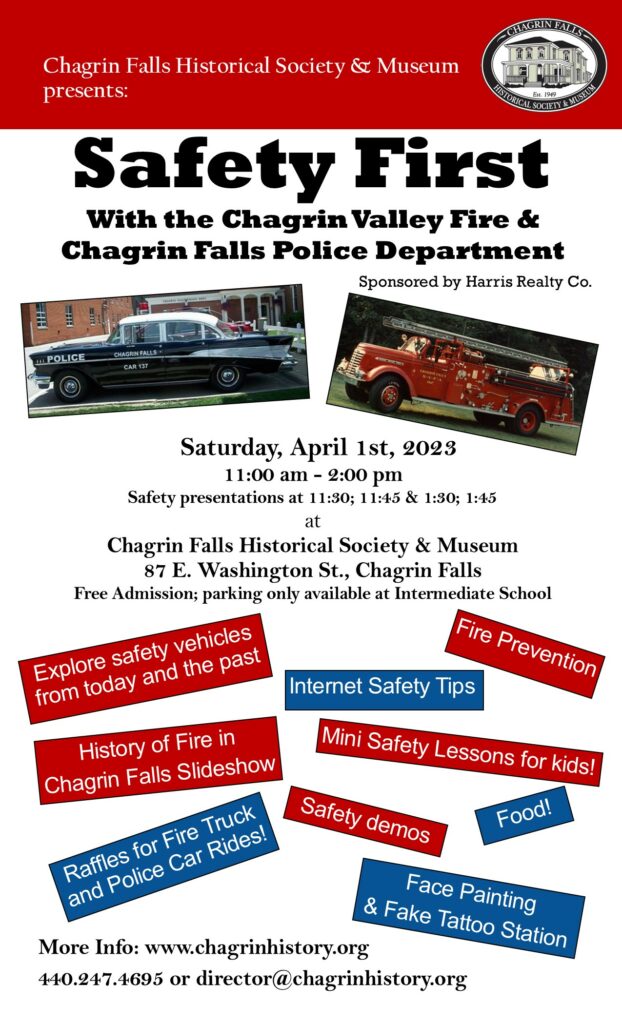 Join us for Safety First! With the Chagrin Valley Fire & Chagrin Falls Police departments on Saturday, April 1, 2023 from 11am-2pm at the Chagrin Falls Historical Society & Museum. Parking will only be available at the Chagrin Falls Intermediate School. The event is sponsored by Harris Realty Co..
This open house style, family friendly event is a great opportunity to learn about fire prevention, internet safety, and more for your family. Visitors will also get a chance to see some of the emergency vehicles up close! You will also get to see the Historical Society's 1949 Chagrin Falls firetruck & 1957 Chevy police car replica.
There will be mini safety lessons for kids, demonstrations, food, face painting/fun tattoos, a history of fire in Chagrin Falls slideshow, and a raffle to win a chance to ride in a firetruck or police car.
Each department will give a 15 minute presentation starting at 11:30am and 1:30pm.
Safety First! with the Chagrin Valley Fire & Chagrin Falls Police Departments
Saturday, April 1, 2023 11am-2pm
Free Admission, donations appreciated
Chagrin Falls Historical Society & Museum
87 E. Washington St., Chagrin Falls
440.247.4695 or [email protected]