Support your local history museum and win amazing prizes from our Gift Basket Raffle!
This gift basket raffle is part of our Nacho Average Gala on Saturday, August 20, 2022. We wanted to give our guests the opportunity to see the baskets before the event and also allow others who can't make it to the event to buy raffle tickets!
Tickets are sold in groups of six for $20. If you do not want to buy online and you are not going to the Gala, you can stop by the Historical Society with cash, check, or credit card prior to the event on August 20th. Please make checks out to: Chagrin Falls Historical Society; PO Box 515, Chagrin Falls, OH 44022.
Winners will be drawn at our Gala on August 20th around 7:30pm. Online sales of raffle tickets will cease at 3pm on August 20th. You do not need to be present to win the prize and we will contact you on Monday, August 22 if you are a winner!
Basket #1- Arts & Entertainment- Total Value: $860
Donations courtesy of Chagrin Documentary Film Fest, Chagrin Valley Little Theatre, Great Lakes Theater, and Valley Art Center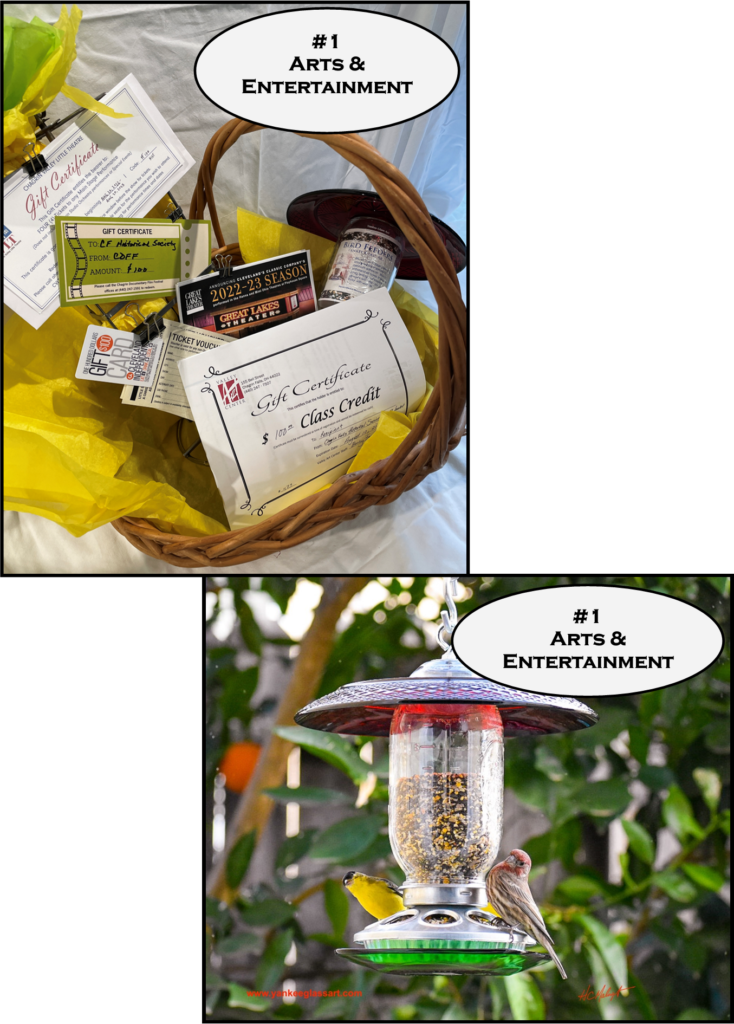 Basket Contents:
-Great Lakes Theater Four 2022/23 season vouchers
-Cleveland Independents $100 Gift Card (participating restaurants)
-4 tickets to the Chagrin Valley Little Theatre
– Chagrin Documentary Film Fest $100 gift certificate
-Chagrin Valley Art Center $100 class credit
-glass bird feeder from BirdFeedersRUs, donated by Hal Malmquist, Chagrin Falls Class of 1981

Basket #2- Beads & Bangles- Value $250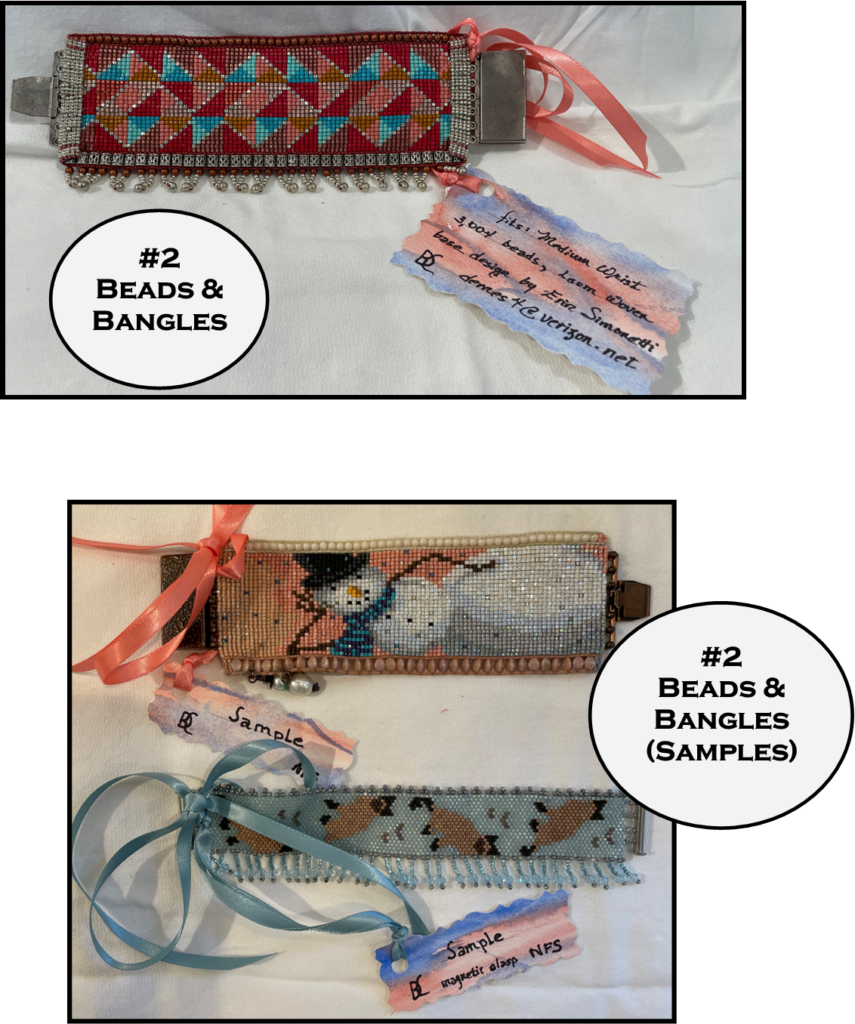 Mad Plaid Cuff with Box Clasp Beaded Bracelet by Katherine Gallage Demes. The lucky winner will have 2 options to choose from: 1) take home the first bracelet shown (not the samples) or 2) take home a gift certificate to be put towards a custom bracelet.

Basket #3- Love Our Locals- Total Value $500
Donations courtesy of Fireside Book Shop, Heinen's, Little Babet, M Italian, The Popcorn Shop, Pub Frato, SHED, and Step In.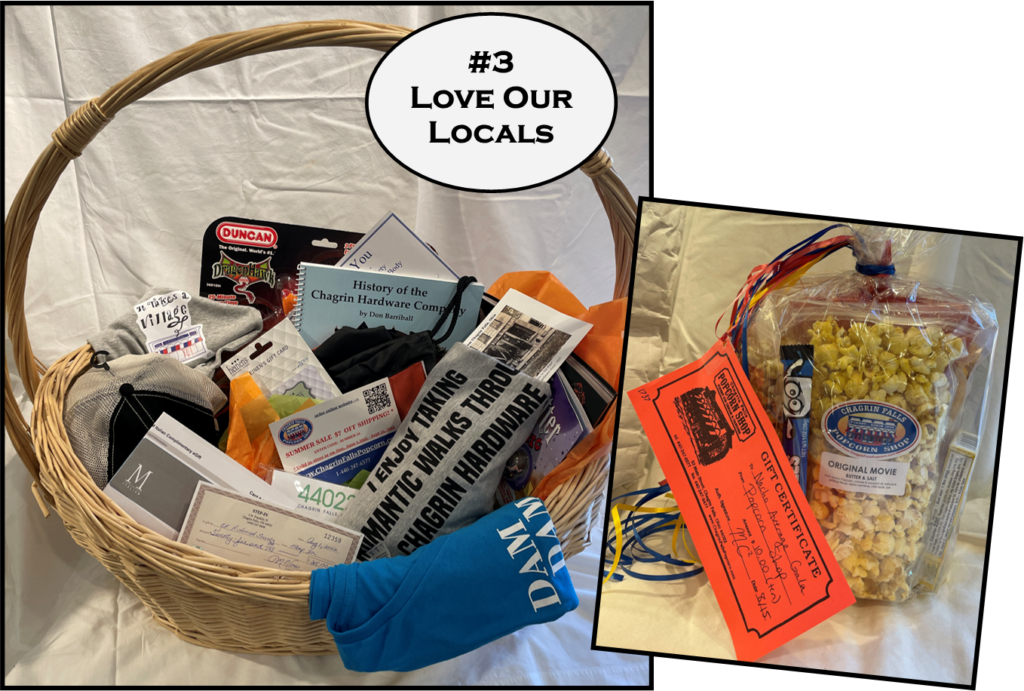 Basket Contents:
-Cleveland Independents Gift Card $100 (participating restaurants)
-Highway Auto Garage $50 certificate
-Heinen's $25 Gift card
-CF drawstring bag
-Step-In $25 gift certificate
-Chagrin Hardware t-shirt (Large, can exchange if needed) & postcard
-notepad- CF 44022
-Book- Rocks Minerals & Gems
-Book- Harry Potter Hogwarts Magic Book
-Chagrin Falls baby onesie
-Popcorn Shop basket (All the Classics, stuffed with old fashioned candy, and $10 gift certificate)
-Toy- dragon hawk
-CF baseball cap
-Chagrin Hardware history book
-Dam Tee (size can be exchanged)
Basket #4- Cheers & Good Luck!- Total Value: $540
Donations courtesy of Chuck's Fine Wines, Bill Hamann, Jeffrey Polcar, Ralph Razinger, Carolyn Sihler, and Susan White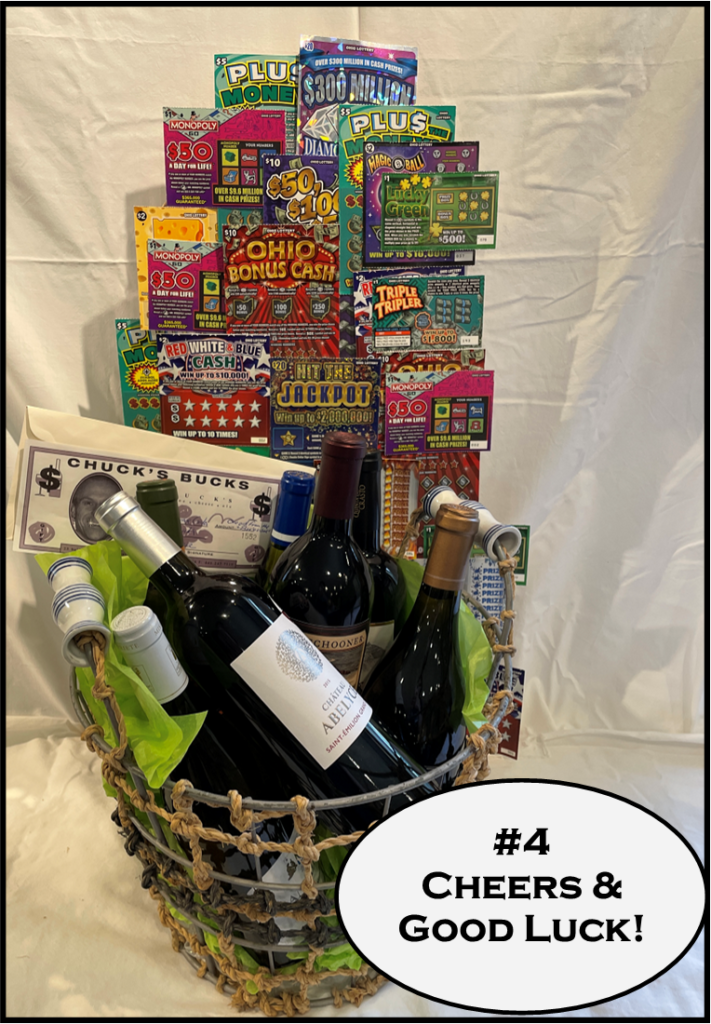 Basket Contents:
-Lottery Tree
-Gift certificate for one pull from the "box o'wine" at Chuck's Beverage
-Red Schooner, Voyage 3
-Sancerre, 2021, La Reine Blance
-The Calling, 2018, Chardonnay
-Chateau Abelyce, 2013, Saint-Emilion Grand Cru
-Quinta do Crasto, Douro 2013
-Russian River Valley Sauvignon Blanc, Merry Edwards 2020
-Rombauer, 2020 Chardonnay
Basket #5- Chagrin Outdoors- Total Value: $485
Donations Courtesy of: Chagrin Pet & Garden, Etalian, Sally Hawkins, Geiger's, and Golf Dome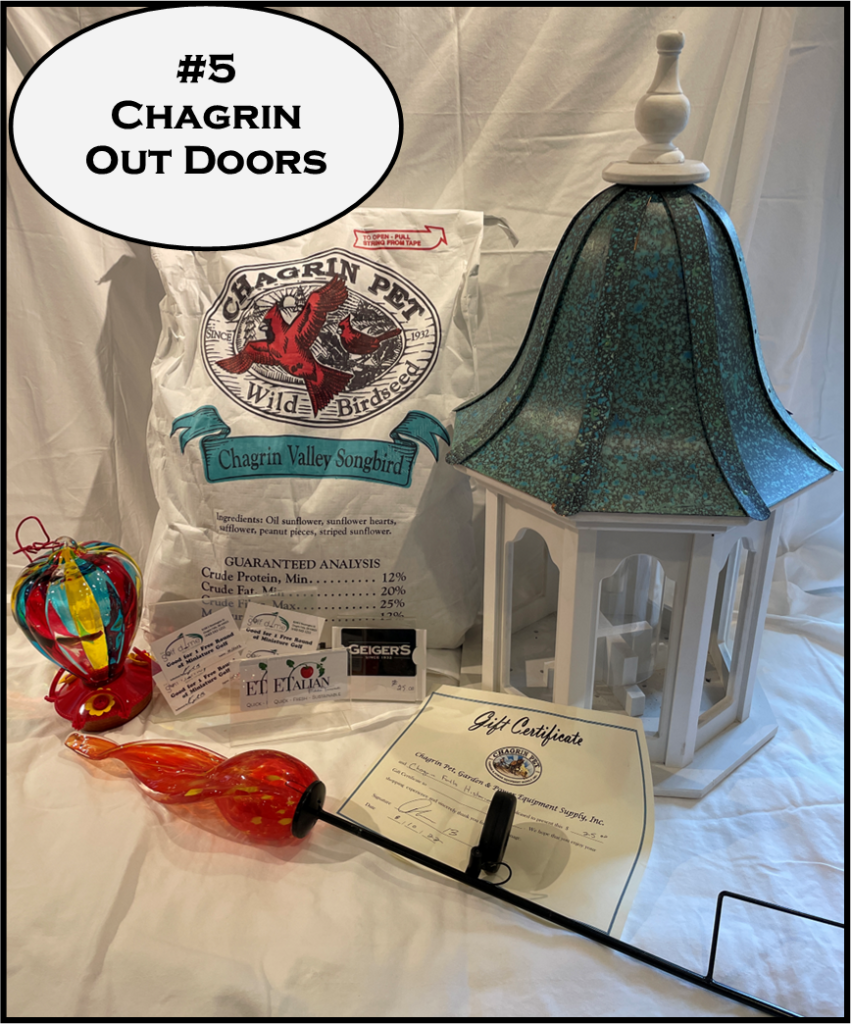 Basket Contents:
-Geiger's $25 gift card
-Golf Dome- 4 tickets
-2 Etalian gift cards- $50 total
-bird feeder- copper oxide
-25 pound bag of bird seed
-Chagrin Pet & Garden $25 gift card
-flame solar art glass
-Glass hot air balloon Hummingbird Feeder
Basket #6- Hoops & Shots- Total Value: $975
Donations courtesy of Christine Kohls, Murphy Funeral Home, and Ralph Razinger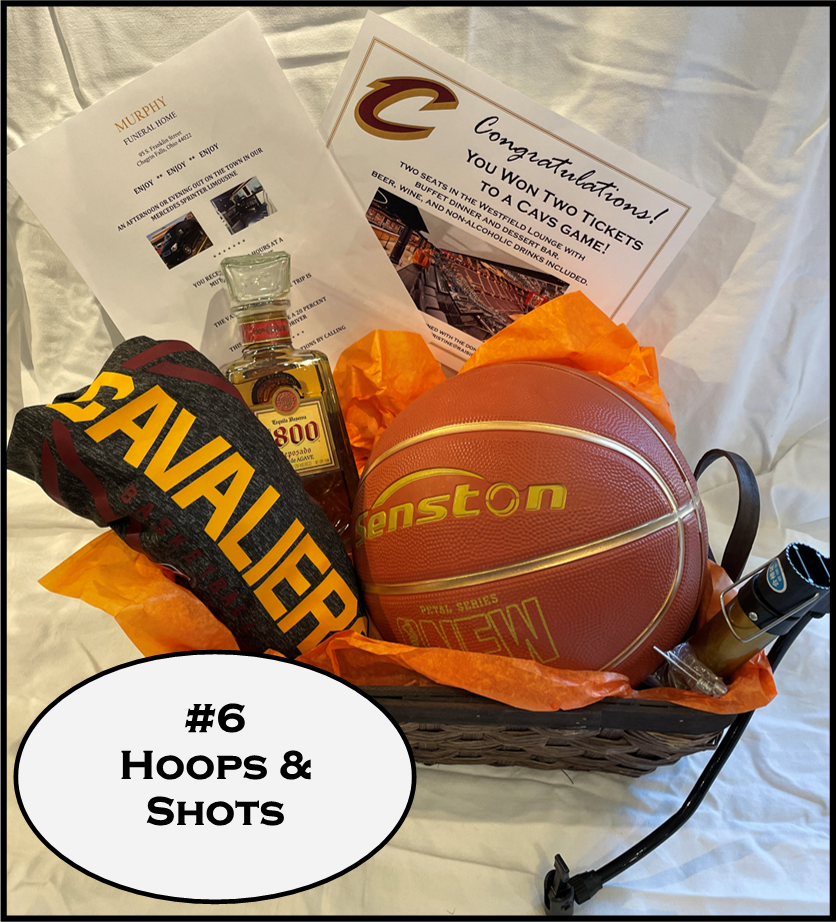 Basket Contents:
-Two Cavs tickets- These are two seats in the Westfield Lounge (big comfy chairs) with buffet dinner and dessert bar and beer, wine, and non-alcoholic drinks included.
-4 hour limo trip
-Cavs Shirt
-Basketball and pump
-Tequila 1800 Reserve
Basket #7- Go Guardians!- Total Value: $725
Donations courtesy of Carol Dolan and Fireside Book Shop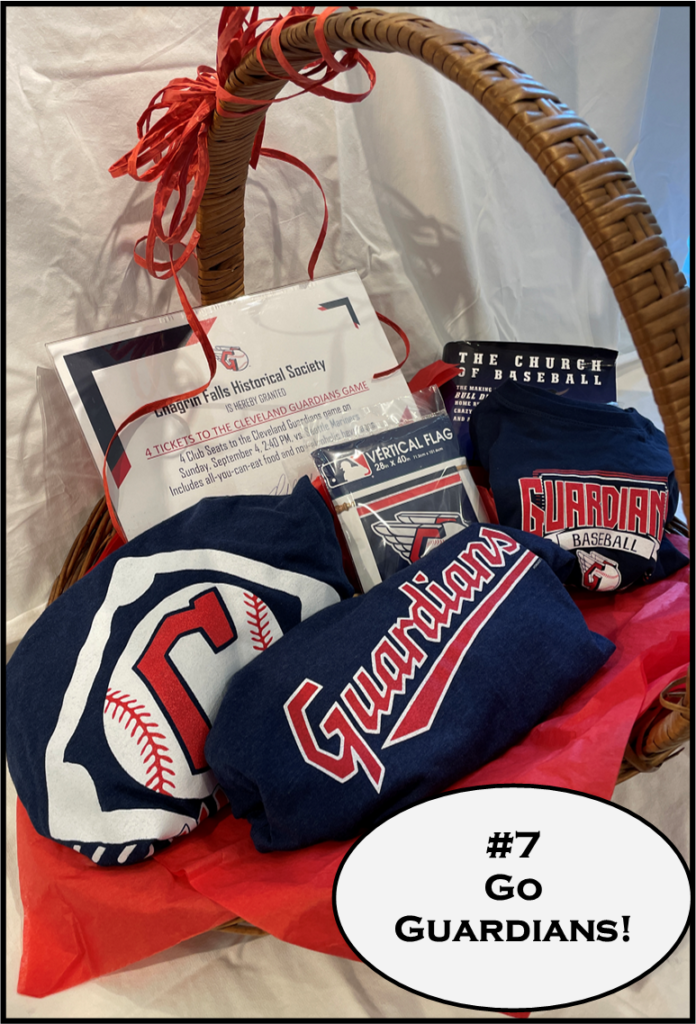 Basket Contents:
-4 Guardians Tickets- Enjoy 4 front row club seats with an all you can buffet! Tickets are for the Sunday, September 4th game. It is Labor Day Weekend & Air Show Weekend! If you win there is a possibility of spotting a Blue Angel overhead while watching the Guardians magic on the field!
-Guardians ladies shirt
-Guardians men's shirt
-Guardians kids shirt
-Guardians flag
-Book- The Church of Baseball
Basket #8- All About Me!- Total Value: $640
Donations Courtesy of Chestnut Hill, Fireside Book Shop, Hedges, Nouveau Vie, SHED, Carolyn Sihler, and Barb Wynveen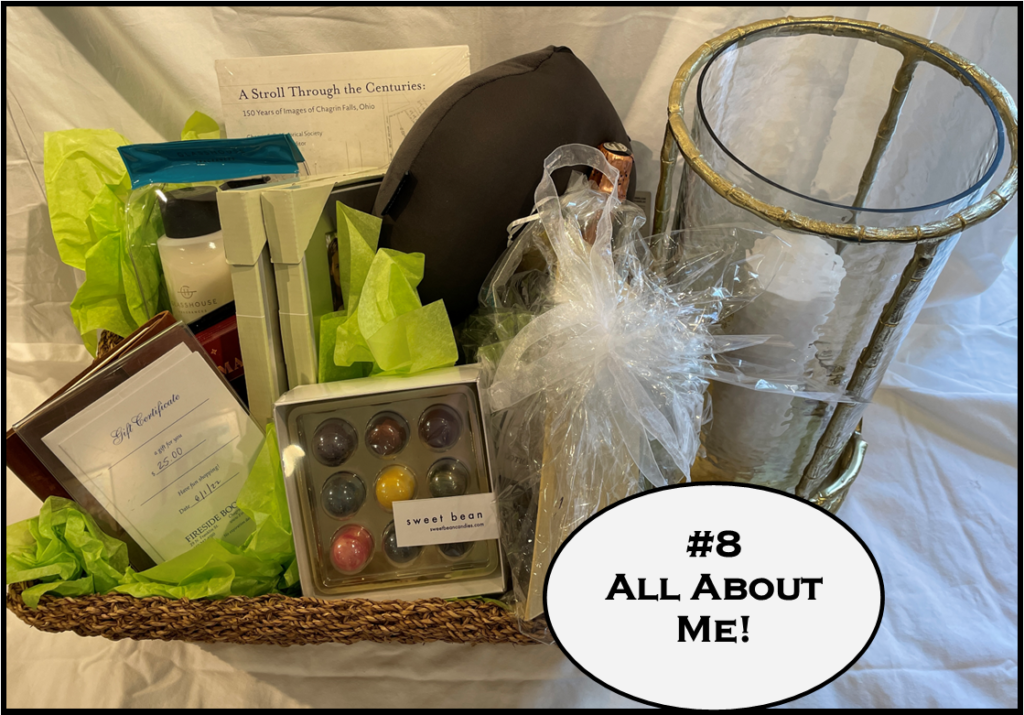 -Archipelago Botanicals soy milk lotion & bar of soap
-Lapco 24K gold hydrogel eye mask
-H2O charcoal lemon juice raw mask
-SHED $50 gift certificate
-Glasshouse Fragrances shower gel & body lotion
-Fireside Book Shop Gift certificate $25
-Book- So Long Thanks for all the fish
-Book- If you ask me
-Book- The Tuscan Secret
-Book- The Friend Zone
-2023 Calendar- Dalai Lama
-16″ Baldwin Brass & Glass hurricane
-candle- Milkhouse Candle- Gratitude
-necklace
-travel pillow
-Dibon Brut Reserve
-chocolates
-Stroll through the Centuries
Basket #9- Morning, Evening, and In Between- Value: $375
Donations courtesy of Barrio, Bill & Pat Diesing, Fireside Book Shop, Hedges, The Olive Scene, The Spice Tea Exchange of Chagrin Falls, White Magnolia, and Barb Wynveen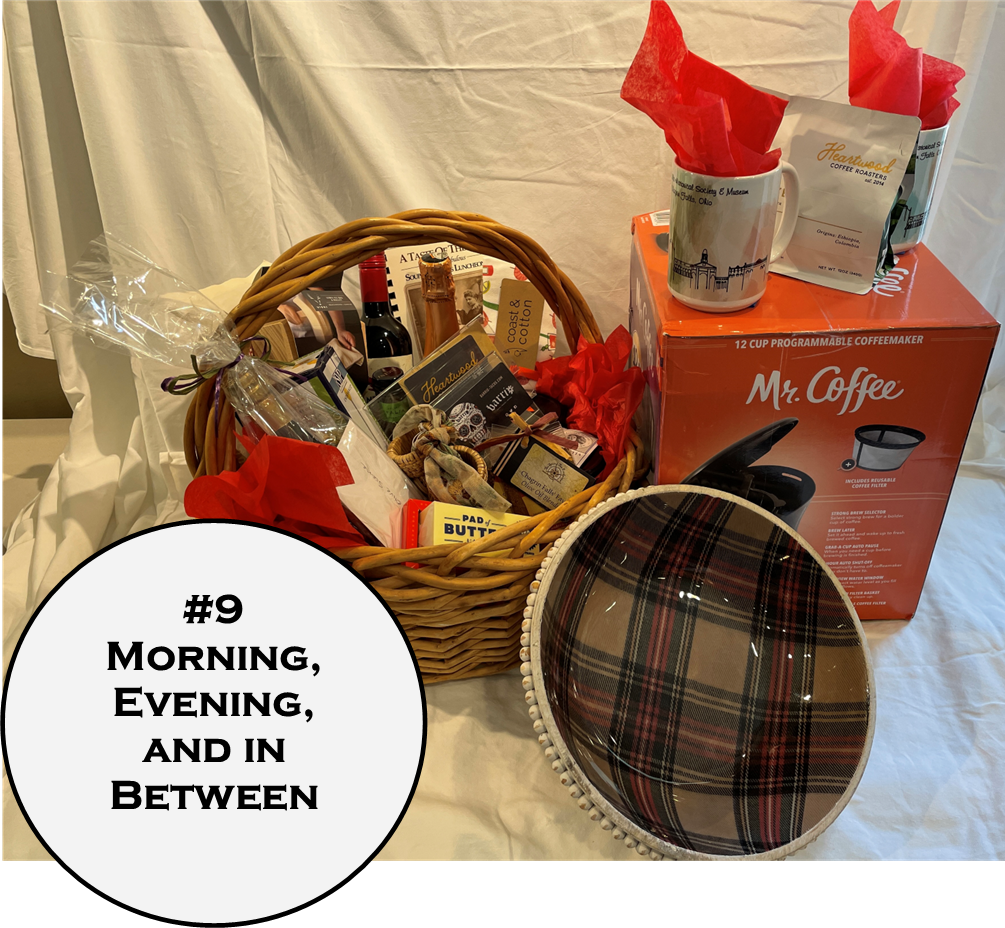 -notepad shaped like butter
-white & plaid bowl- great decoration or for popcorn!
-napkin holders
-Flour Sack Towel
-Ice bag & Mallet
-Spice Sampler
-pure, fresh pressed olive oil
-Olive Scene $10 gift certificate
-honey jar with silicone dipper
-truffle honey
-Barrio $25 gift card
-Heartwood $25 gift card
-Coffee grounds from Heartwood
-Dibon Brut Reserve
-Mr. Coffee coffeemaker
-2 Chagrin Falls Historical Society mugs
-Taste of the Past recipe book