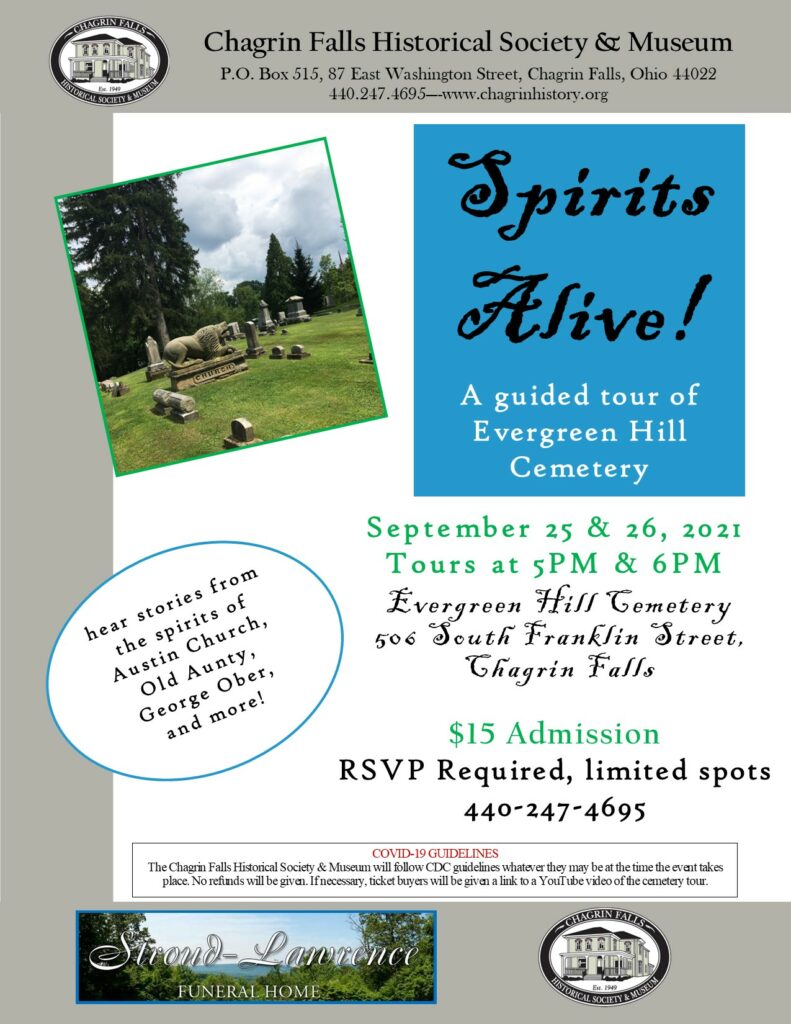 UPDATE: The 5pm tours are SOLD OUT!
Chagrin Falls Historical Society presents: SPIRITS ALIVE! At Evergreen Hill Cemetery
Join us for our fourth annual Spirits Alive! Evergreen Hill Cemetery tour. You will be guided to seven graves in the cemetery. At each grave, you will meet the spirit who lives there and hear their story! While this is an annual event, the spirits who come out to talk to you are different each year! This year you will hear stories from well-known Chagrin residents: Austin Church, Old Aunty, George Ober, and more!
An RSVP is required for the event, light refreshments will safely be provided. The event will take place rain or shine, no refunds will be given. This event is proudly sponsored by Stroud Lawrence Funeral Home.
Spirits Alive! At Evergreen Hill Cemetery
Saturday, September 25, 2021- tours at 5pm (SOLD OUT) and 6pm
Sunday, September 26, 2021- tours at 5pm (SOLD OUT) and 6pm (1 SPOT REMAINS)
Admission- $15
RSVP REQUIRED
Purchase online: www.chagrinhistory.org
By phone: 440.247.4695
COVID-19 GUIDELINES: We will follow CDC guidelines whatever they may be at the time the event takes place. No refunds will be given. If necessary, ticket buyers will be given a link to a YouTube video of the cemetery tour.
About Evergreen Hill Cemetery: Evergreen Hill Cemetery was the second cemetery established in the Village and Township. The first burial in the Cemetery took place in 1863. Some families removed the remains of their family members from Grove Hill Cemetery to Evergreen Hill, although the Grove Hill Cemetery was active until 1869. The Chagrin Falls Township Trustees still maintain the grounds of the cemetery.