The Chagrin Falls Historical Society & Museum presents "Through Their Voices: Veterans of Chagrin Valley & Beyond". This Speaker Series will explore the stories of our veterans in their own words. The museum will host a program each month with local veterans from various wars and conflicts. All of the programs will have a question and answer session, light refreshments, and free admission! An RSVP is appreciated to 440-247-4695 or [email protected]. The series is sponsored by American Legion Post 383 and VFW Post 12067.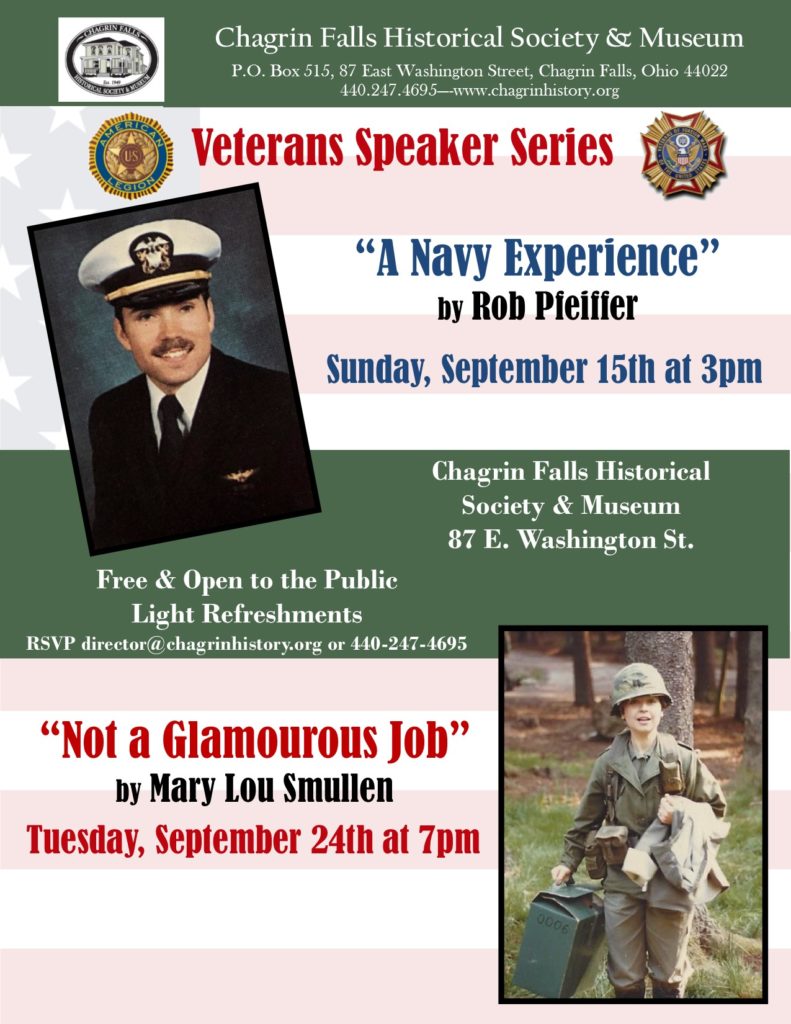 On Sunday, September 15th at 3pm please join us in welcoming US Navy veteran Rob Pfeiffer. This is a free program and an RSVP is appreciated to Ruth Zeager at [email protected] or by calling 440-247-4695. Light refreshments will be served.
In conjunction with the Veterans Speaker Series, stop by the museum to see our exhibit- Through Their Eyes: Chagrin Valley Veterans. This exhibit is on display now through November 11, 2019.
About the speaker:
Rob Pfeiffer served in the United States Navy from 1981 through March 2001 when he retired. Rob spent 8 years in active service and 12 years in the Navy Reserves. He graduated from Chagrin Falls High School in 1977 and continued to Ohio University. In 1981 he joined the Navy because he thought it would be cool to land on an aircraft carrier but soon found out landing on the ship at night was not cool!
Over his career he was stationed in Florida, Texas and California. He was an instructor for the EA-6B Prowler aircraft when he was stationed at Whidbey Island off Washington State.
He served on three war time cruises through the Mediterranean. From 1984-1985 he served on the USS Eisenhower (CVN-69). His second cruise from 1986-1987 in the Mediterranean was on the USS Forrestal (CV-59) where he spent most of his time as an instructor. He spent his third cruise through the Mediterranean on the USS George Washington (CVN-73).
Rob spent four months in Bosnia during Operation Deny Flight in 1995. Operation Deny Flight was a NATO operation that enforced the UN no-fly zone over Bosnia and Herzegovina. The operations of Deny Flight spanned more than two years of the Bosnian War.