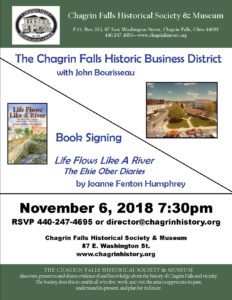 Chagrin Falls Historical Society & Museum presents: the Chagrin Falls Historic Business District with John Bourisseau and Book Signing with Joanne Fenton Humphrey 
Join the Chagrin Falls Historical Society and Museum for a program on The Chagrin Falls Historic Business District presented by Board President, John Bourisseau. Author, Joanne Fenton Humphrey will be on hand to sign her new book Life Flows Like A River, The Elsie Ober Diaries, January 1876—January 1897. The book will be exclusively sold in the Chagrin Falls Historical Society Gift Shop and a portion of the proceeds will benefit the museum.
The Chagrin Falls Historic Business District Program & Book Signing
Tuesday, November 6, 2018 at 7:30pm
RSVP 440.247.4695 or [email protected] 
Look Up and Find History: The Chagrin Falls Historic Business District by John Bourisseau
The downtown business district is recognized by the National Park District as an Historic Business District.  Some of the history can be found by looking up at the facades of the buildings.  Have you ever noticed the word Bank on Toni's, the Masonic symbols on the Hardware Store or the letters GAR on Bell & Flower.  John's presentation will take you through the Village and share the rich and varied history of its buildings.
About the Book & Author:
Life Flows Like A River, The Elsie Ober Diaries, January 1876—January 1897 by Joanne Fenton Humphrey.
A synopsis of the book
What was daily life like in the small, Midwest mill town of Chagrin Falls, Ohio, during the latter decades of the 19th century? What were the occupations and preoccupations of those who lived then? How difficult was life in those years? How joyous? Imagine walking to town most days in a slurry of boot-sucking mud and horse manure, ankle-deep or deeper. Think about what it would have been like to constantly worry about your house or place of business burning down, because fire was an ever-present danger. And of course there were a variety of diseases, infections and afflictions for which there was no cure. In January 1876, several months before her sixteenth birthday, Elsie Ober began to keep a record of her life. Her diaries are the primary source for this book of historical fiction.
About the author
Joanne Humphrey, a forty-year resident of Chagrin Falls, has combined her passion for historical research with her love of writing. Joanne has written an extensive variety of books, such as Emil White of Big Sur; Cruising the Amazon River; Hopewell, A Place of Healing; and Ameen (a prose poem about the creative work of a local potter). For the past thirteen years she has partnered with her husband, Ron, at Windjammer Adventure Publishing, a boutique book publishing company offering highly specialized, personalized services: editing, writing, book design, color matching for artists, and custom printing.