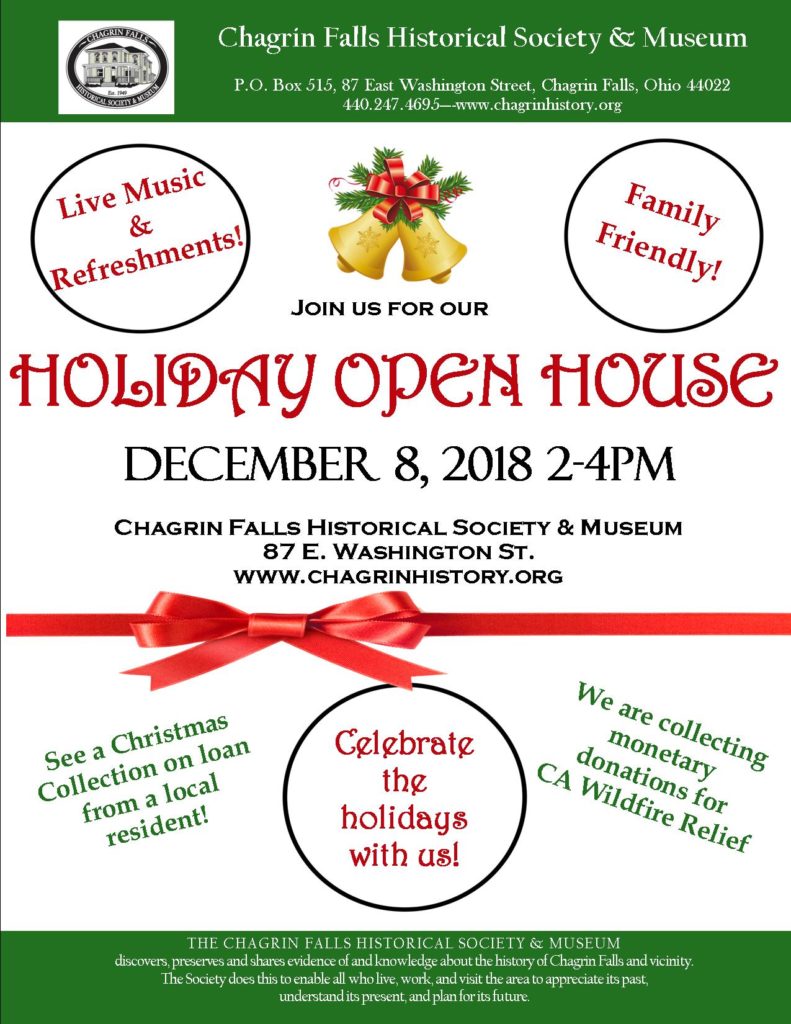 Chagrin Falls Historical Society & Museum presents our annual Holiday Open House!
Celebrate the holidays with the Chagrin Falls Historical Society & Museum at our annual Holiday Open House on Saturday, December 8th from 2-4pm in our Bo Burr Community Room.  Enjoy refreshments, holiday cheer, and live music courtesy of Butternut Hill: A Music Duo! This is a family friendly event with a holiday craft table for children to create two different crafts. We will be collecting monetary donations for the California Wildfire Relief Fund.
Guests will also be able to tour the museum and make a purchase in the Museum Gift Shop. There are several unique local items, perfect for anyone how loves Chagrin Falls or history! On display in the museum will be a special display of Christmas antiques on loan from a local resident. You do not want to miss this incredibly beautiful Christmas collection!
Saturday, December 8, 2018 from 2-4pm
Free Reception with refreshments
During the Holiday Open House, please take the time to check out our current exhibit Chagrin Falls- Open for Business! This is a historical perspective of businesses in Chagrin Falls shown through signs, photographs, advertising items and memorabilia. The exhibit features products made in Chagrin Falls including advertising items from businesses of the past will be displayed. The chairs from Falls Theatre and the ticket taker will be in the exhibit as well as a beautiful collection of Chase Bags on loan from a private collection, a grocery store and pharmacy. This exhibit will be on display through the end of February and is sponsored by the Chagrin Valley Chamber of Commerce.
In the Bo Burr Community Room Gallery: Signs of Times Past, a collection of business signs from Chagrin Falls businesses through the years. The signs are of more modern times that will be recognized by many locals. On our second floor, visitors will be delighted by our Taggart's Toys display, Doll Collection, and the Sihler Research Center.