Support your local history museum and win amazing prizes from our Gift Basket Raffle!
This gift basket raffle is part of our Meet Me At the Fair! Gala on Saturday, August 19, 2023. We wanted to give our guests the opportunity to see the baskets before the event and also allow others who can't make it to the event to buy raffle tickets!
Tickets are sold in groups of six for $20. If you do not want to buy online and you are not going to the Gala, you can stop by the Historical Society with cash, check, or credit card prior to the event on August 19th. Please make checks out to: Chagrin Falls Historical Society; PO Box 515, Chagrin Falls, OH 44022.
Winners will be drawn at our Gala on August 19th around 7:30pm. Online sales of raffle tickets will cease at 3pm on August 19th. You do not need to be present to win the prize and we will contact you on Monday, August 21 if you are a winner!
Basket #1 – Go Guardians!- $1,000
Donations courtesy of Carol Dolan and Murphy Funeral Home

Basket Contents:
4 Guardians Tickets – Enjoy 4 front row seats right behind the Guardians dugout between third and home! Tickets are for Friday, September 22 against the Baltimore Orioles AND include a a VIP on the field batting practice experience for the 4 ticket holders!
Each ticket is loaded with $25 to spend on merchandise and food at the Home Plate Club, or anywhere else in the ballpark (must be spent on the date of the tickets)
4 Guardians baseball caps
4 hour limo trip – Ride to and from the game in style!
Basket #2 – Treat Yo Self – $315
Donations courtesy of Changes Salon, La Look Skin, Mug & Brush Barber Shop, Peter's Store for Men, and Town & Country Gifts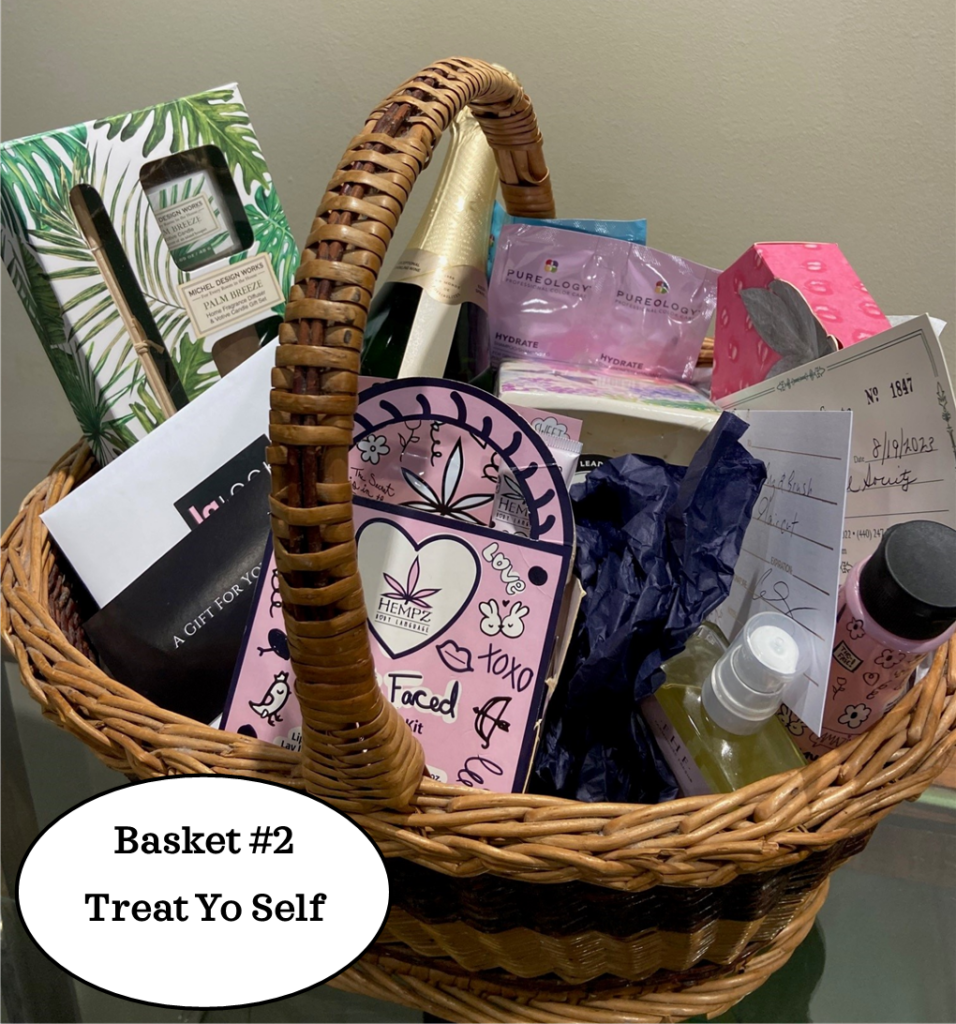 Basket Contents:
Facial spa kit, Luscious Lip Kit, Body Oil, Herbal Bubble Bath, Pureology Shampoo & Conditioner, and $25 gift card from Changes Salon
La Look Skin $25 Gift Certificate
Mug & Brush Haircut Certificate
Peter's Gift Certificate for $100
Swan Creek Candle
Bottle of Brut
Town & Country Gifts Candle and Scents
Basket #3 – Yoga, Wine…Reset – $365
Donations courtesy of Reset Lounge, Chestnut Hill Home, Chagrin Yoga, and Snap Fitness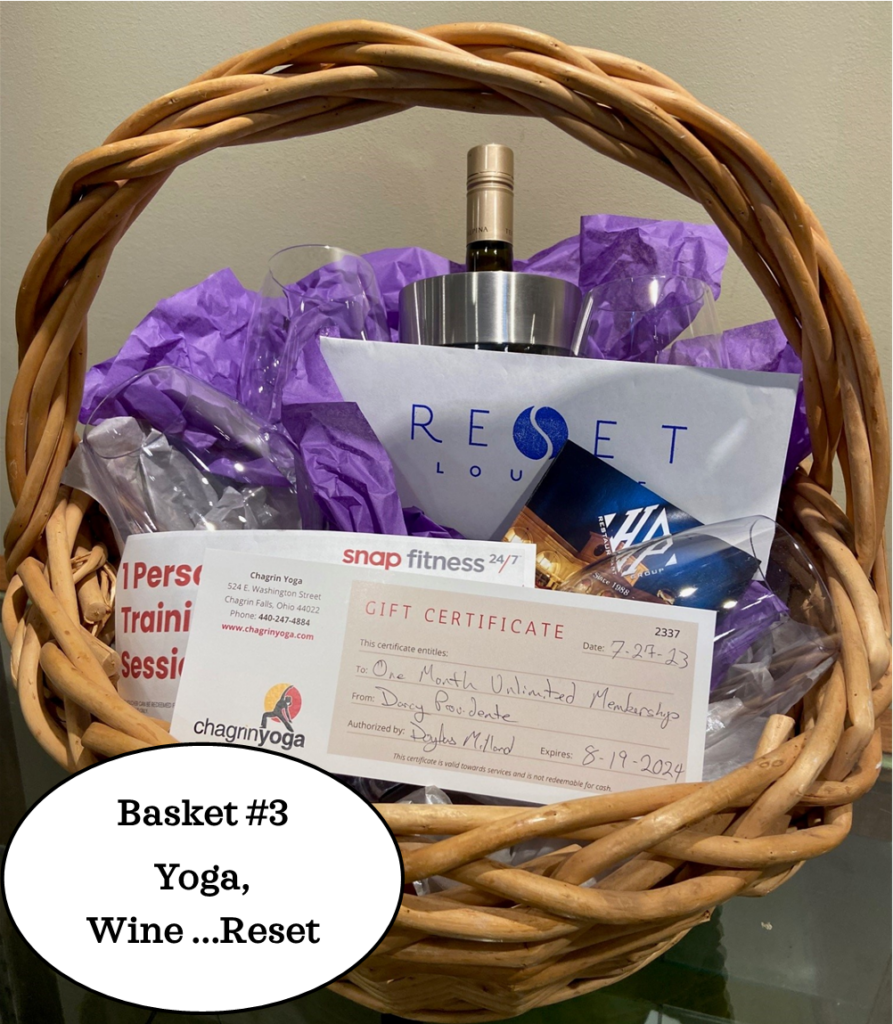 Basket Contents:
4 shatter proof wine glasses from Chestnut Hill Home
Wine Chiller from Chestnut Hill Home
Gift Card to Hyde Park Group restaurants
Gift Certificate of one month unlimited membership to Chagrin Yoga
$50 Reset Lounge Gift Certificate
1 Personal Training Session to Snap Fitness
Wine
Basket #4 – All in the Family – $260
Donations Courtesy of The Popcorn Shop, Fireside Book Shop, The Olive Scene, Etalian, and Town & Country Gifts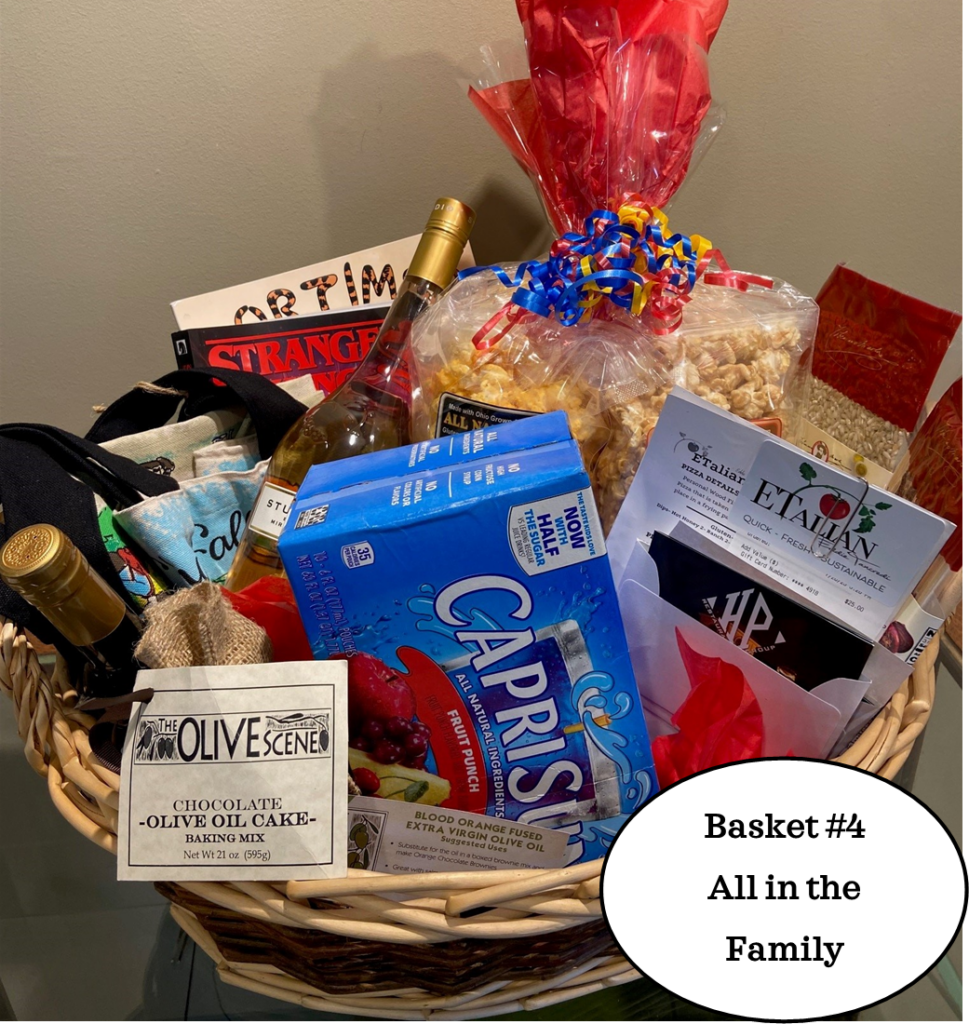 Basket Contents:
Popcorn from The Popcorn Shop
ETalian Gift Card
Blood Orange infused Olive Oil and Olive Oil Chocolate Cake Mix
Stranger Things book
Mortimer book
Box of Capri Sun
Wine
Chagrin Falls Bag
Spaghetti "Boscaiola" with Porcini & Tomato
Ready to Go Risotto Dinner
Basket #5 – Cold Winter's Night -$260
Donations courtesy of Fireside Book Shop and Geiger's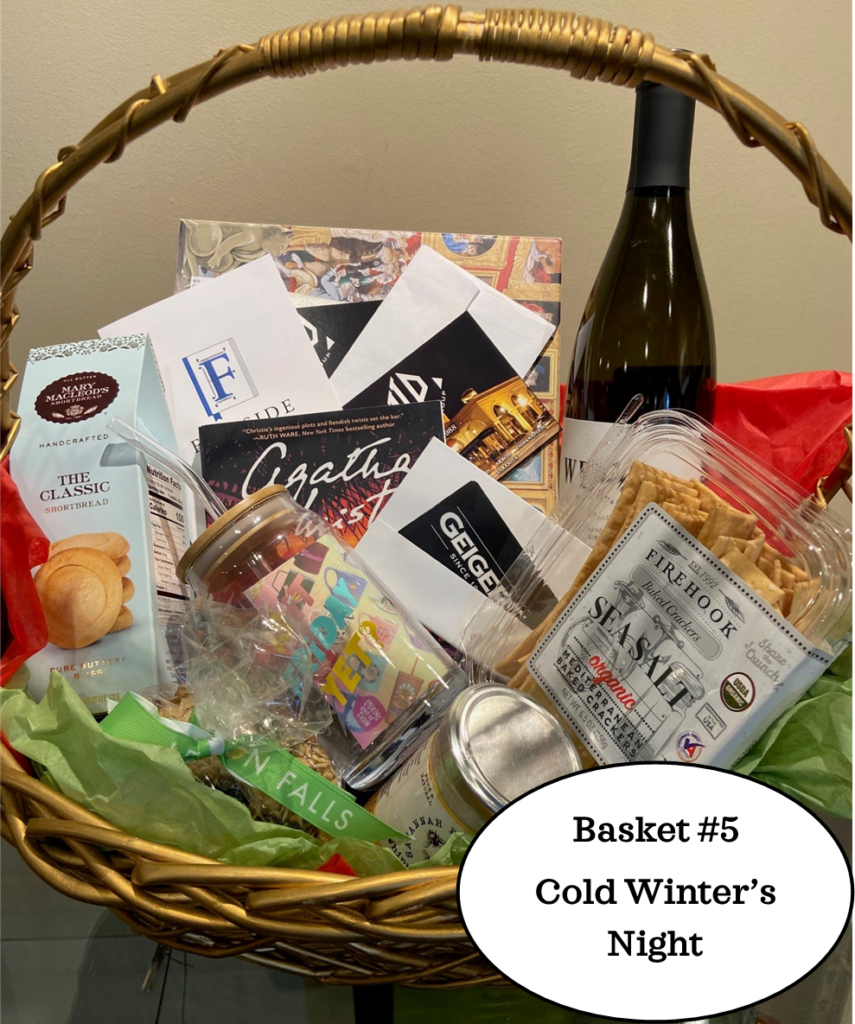 Basket Contents:
$25 Fireside Gift Card
Puzzle
Agatha Christie book
"Is it Friday Yet?" cup
Lemon Whipped Honey
Hyde Park Restaurants Gift Cards
Geiger's Gift Card
Shortbread Cookie
Lemon Falls Granola
Sea Salt Crackers
Bottle of Wine
Sea Salt Chocolate Caramels
Basket #6 – Chagrin Icons – $580
Donations courtesy of Lowe's Audio Video, Mug & Brush Barber Shop, Chagrin Hardware, and the Valley Art Center
Basket Contents:
Lowe's Audio Video Gift Card $200
Valley Art Center Gift Card $100
Flag from Chagrin Hardware
Chagrin Falls Sweatshirt
Chagrin Falls Calendar
Chagrin Hardware History Book
Chagrin History Center Mug
Mug & Brush Haircut
Wine
Chagrin Documentary Film Fest Certificate
Basket # 7 – Gardener's Delight – $310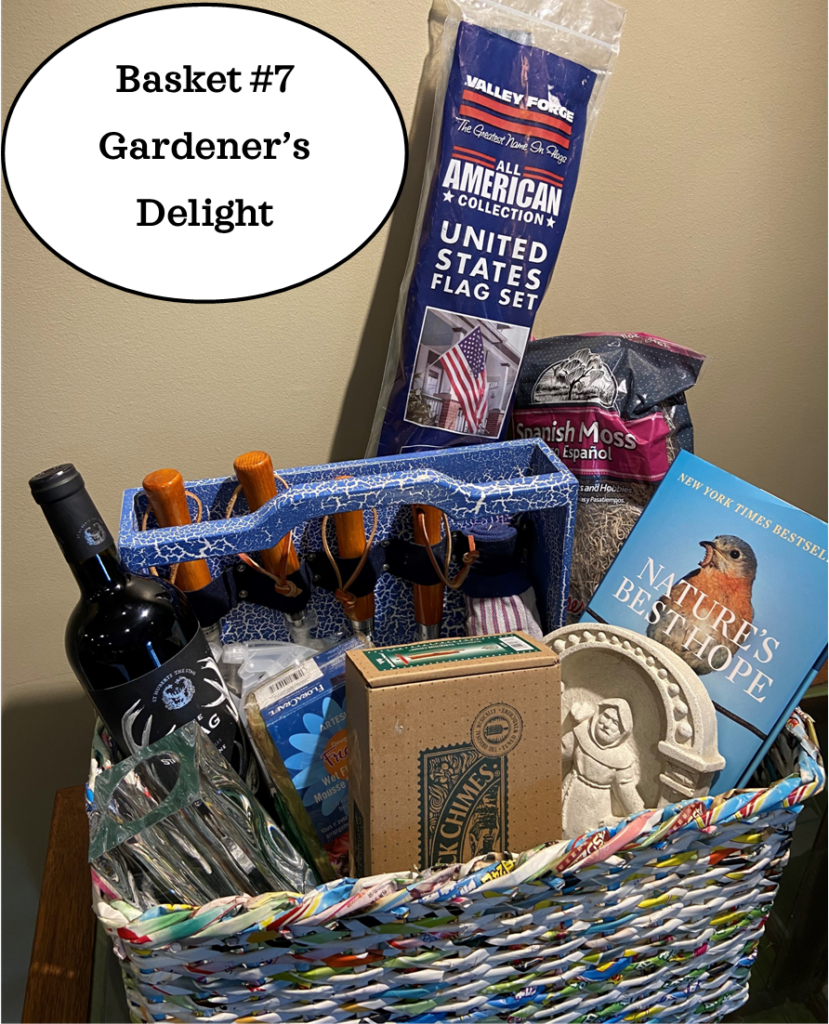 Basket Contents:
Lowe's Greenhouse Gift Card for Landscape Consultation
Chagrin Hardware Valley Forge Flag Set
Nambe Vase
Garden Tools
Stone Patio Plaque
Woodstock Turquoise Chimes
Garden Supplies
Basket #8 – French Connection – $300
Donations courtesy of White Magnolia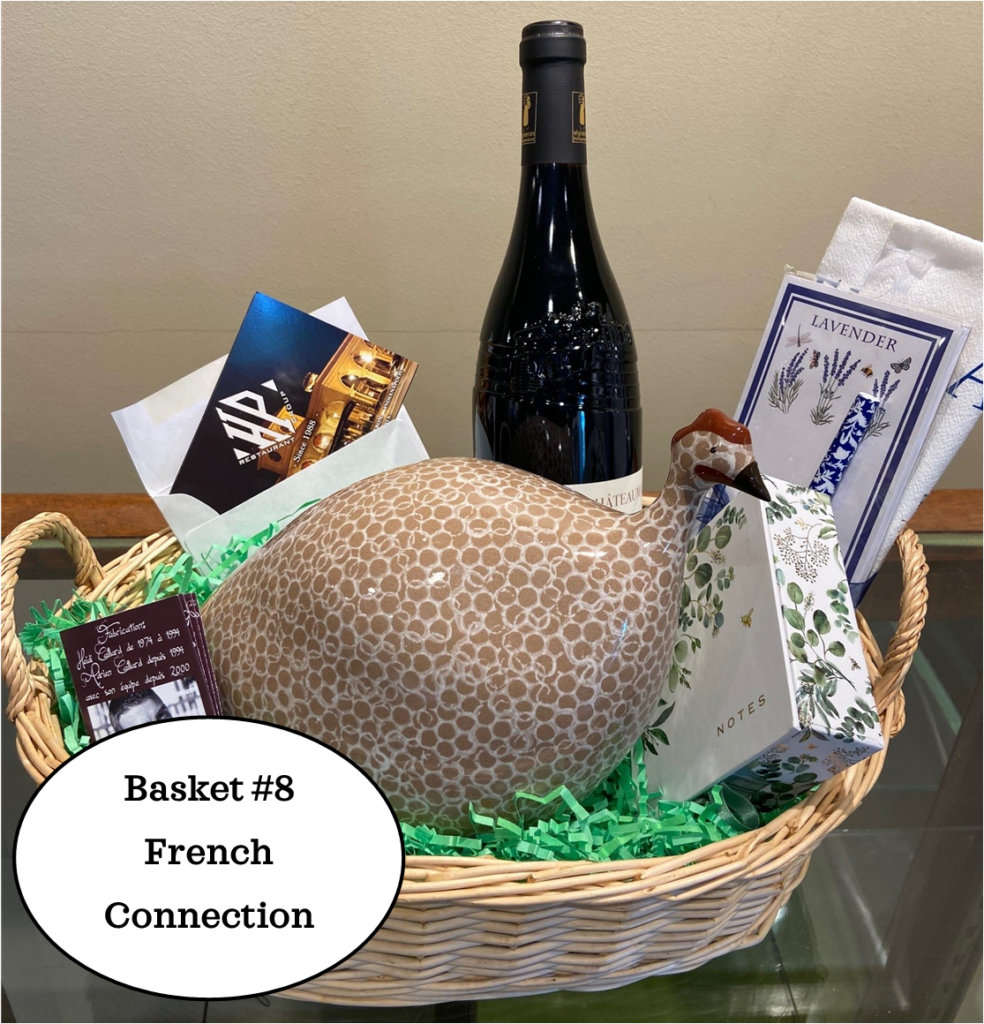 Basket Contents:
Antique La Pintade Guinea Fowl
Hyde Park Restaurants Gift Card
Wine
Lavender Note Set
Flower Note Set
Paris Notecards
Basket # 9 – Health, Wealth…Well Being – $200
Donations courtesy of Fireside Book Shop and the Olive Scene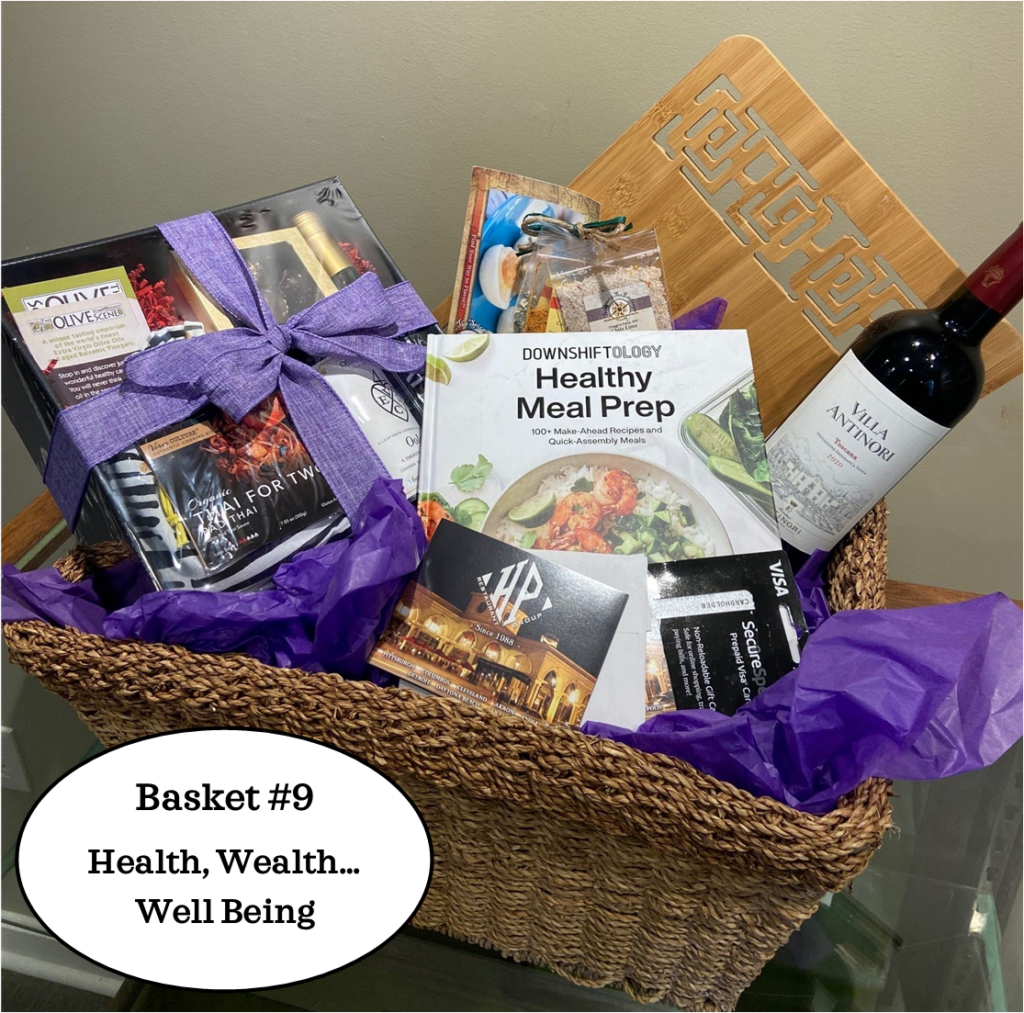 Basket Contents:
Olive Scene Thai Dinner Kit
Wine
The Spice & Tea Exchange Deviled Eggs Kit
Healthy Meal Prep Cookbook
Book Stand
Hyde Park Restaurants Gift Card
$25 Visa Gift Card
Basket #10 – Fire & Ice – $325
Donations courtesy of the Glass Asylum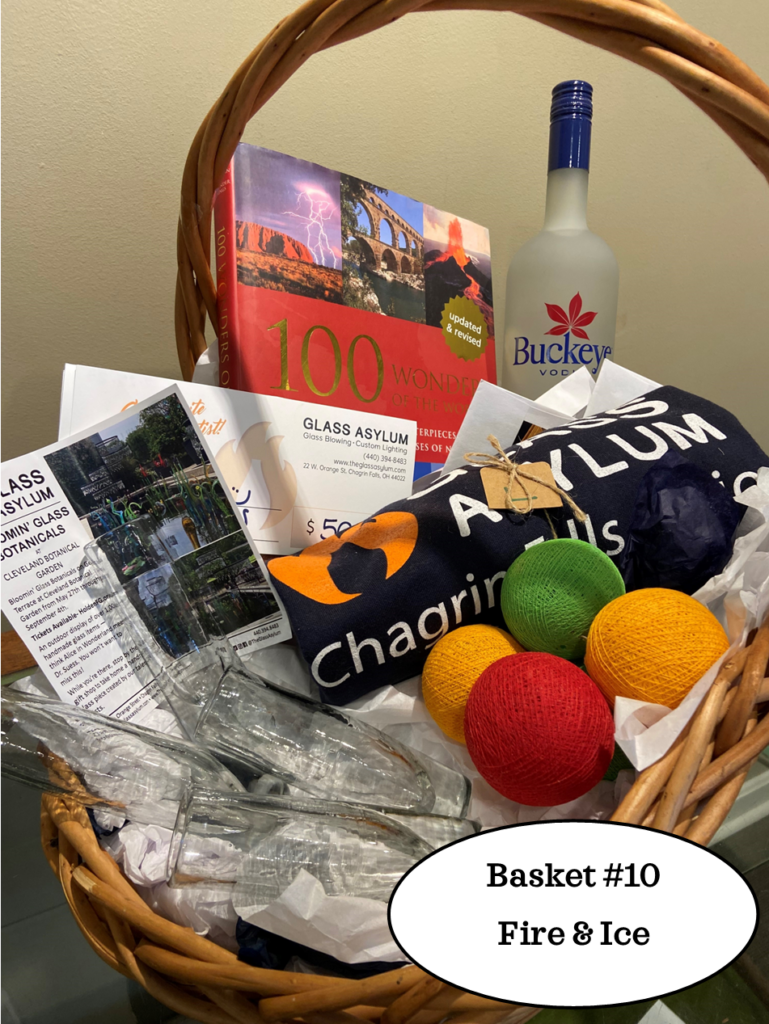 Basket Contents:
Glass Asylum Hand Blown Glasses, Sweatshirt, and Workshop Certificate
"100 Wonders of the World" Book
Buckeye Vodka
Hyde Park Restaurant Group Gift Cards
$25 M Italian Gift Card
Basket #11 – Happy Home – $275
Donations courtesy of Juicy Lucy, SHED Boutique, and Two & Company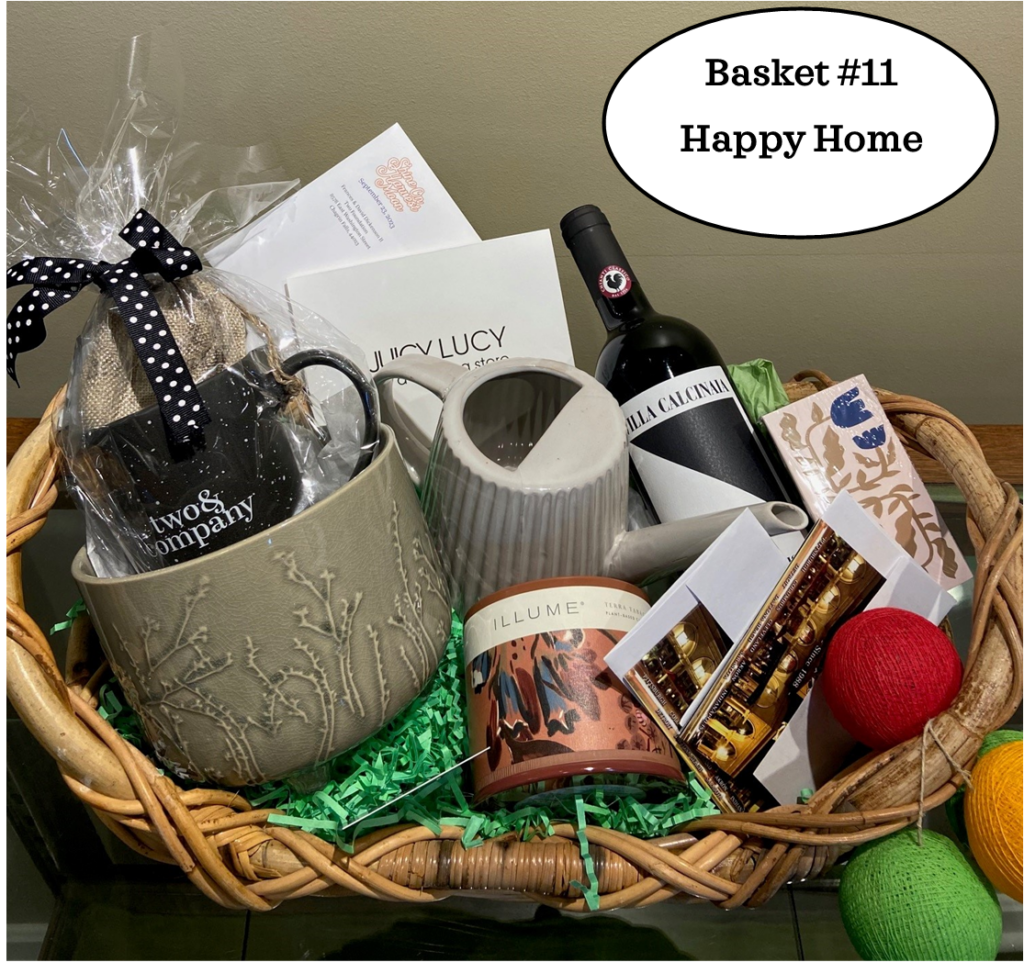 Basket Contents:
Hyde Park Restaurants Giftcards
$50 Two & Company Gift Card
Two & Company Mug
SHED Boutique Candle, Watering Can, Planter, and Matches
$50 Juicy Lucy Gift Certificate
Wine
Basket #12 – Wine Lovers – $300
Donations courtesy of Chucks Fine Wines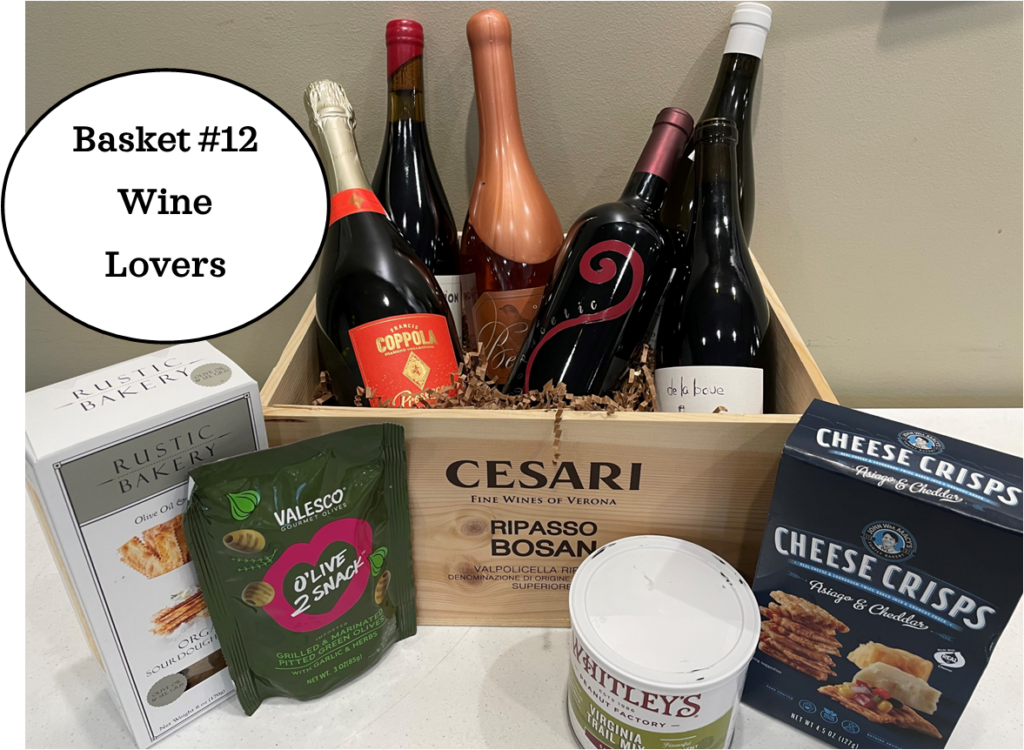 Basket Contents:
5 Bottles of Wine
1 Bottle of Prosecco
Virginia Trail Mix
Grilled & Marinated Pitted Green Olives with Garlic & Herbs
Asiago & Cheddar Cheese Crisps
Olive Oil & Sel Gris Sourdough Flatbread Crackers
Applewood Smoked Summer Sausage
Plymouth Hunter Cheddar Cheese
Plymouth Black Truffle Cheddar Cheese
Basket #13 – Dining Inn & Out – $300
Donations Courtesy of Lemon Falls Cafe/Marketplace, the Inn of Chagrin, M Italian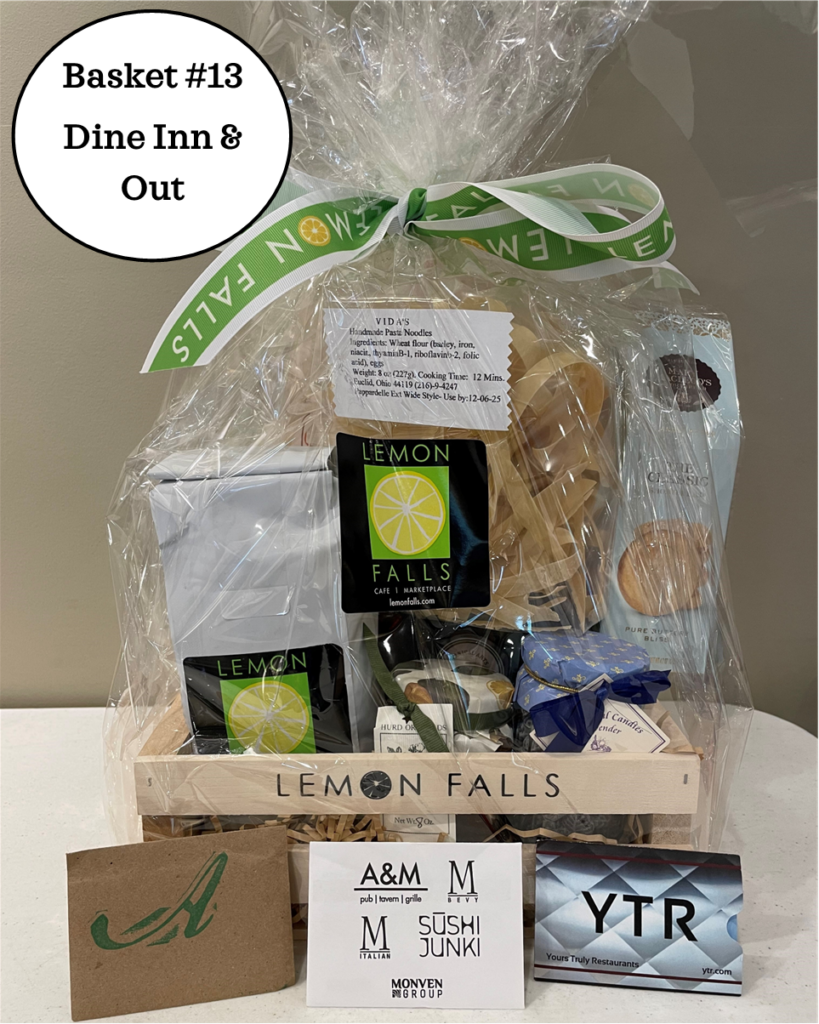 Basket Contents:
Vida's Pasta Noodles
Cheddar Jalapeño Breadsticks
Italianavera Al Basilico Sauce
Coffee Beans
Earl Grey Tea
Mary Macleod's Shortbread
Pizelles
Late Summer Harvest Preserves
Lavender Candies
$25 Aurelia Gift Card
$25 M Italian Gift Card
$50 Yours Truly Gift Card
$100 Certificate towards a night at the Inn of Chagrin