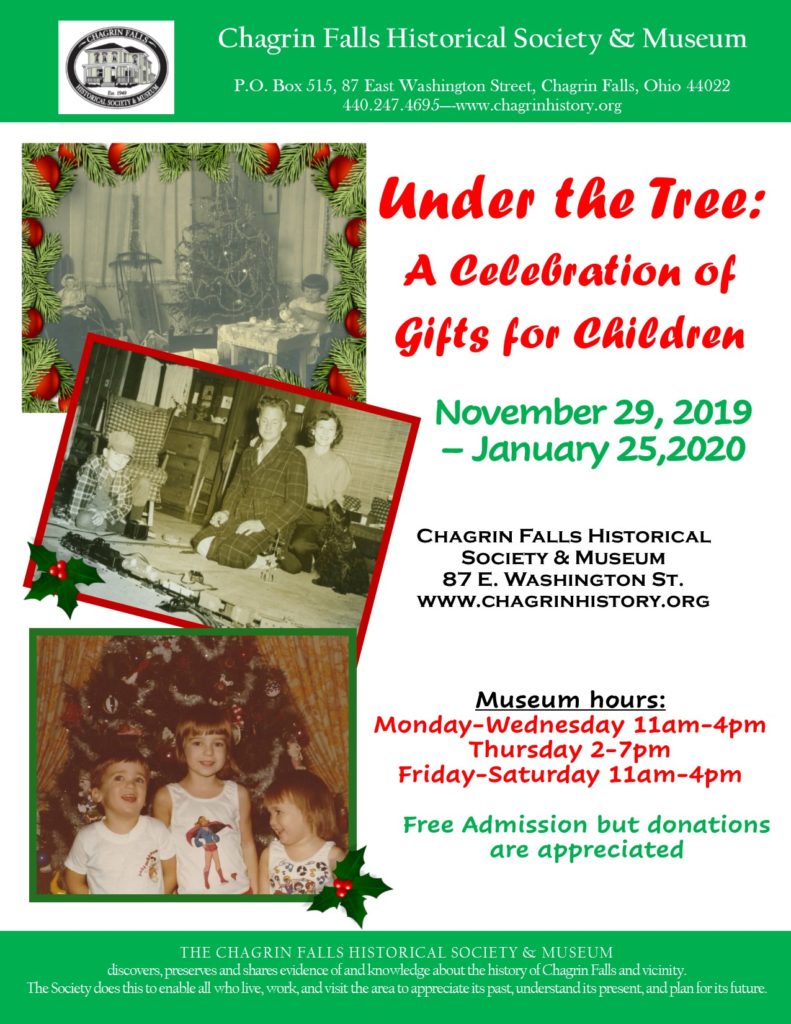 Celebrate Christmas with the Chagrin Falls Historical Society & Museum! Our new exhibit "Under the Tree: A Celebration of Gifts for Children" opens on Friday, November 29th and will run through January 25, 2020.
Walk-through Christmas' past as our museum gallery is transformed with five Christmas trees decorated to represent certain eras. There will be era-specific presents under each tree which will be toys from the Chagrin Falls Historical Society & Museum's Object Collection. Beginning with a tree decorated with ornaments and gifts from 1890-1909 and ending with 1970-1989, explore "what is was like" for Chagrin residents during each Christmas era.
The museum will be open special holiday hours during this exhibit. Starting on Friday, November 29th and through the holidays, the museum will be open Monday-Wednesday 11am-4pm; Thursday 2-7pm; Friday-Saturday 11am-4pm. Admission to the museum is free but donations are appreciated.
This exhibit was sponsored by two anonymous donors. One contributed in honor of Carolyn Sihler and Laura Gorretta for their hard work and expertise. And the other donor contributed in honor of three outstanding teachers at Chagrin Falls Intermediate School! Katherine Adick – 4th Grade; Patrick McArthur – 5th Grade; Katherine Owen 6th Grade. A few of the greatest gifts a person can receive include the gifts of inspiration, self-confidence and discovery. These Chagrin Falls Intermediate School teachers are generously handing out these gifts every day to students and from all of us who are touched by their devotion to teaching – thank you!
As part of the holiday season, we will be conducting a Food Drive from November 25 through December 14 to benefit Chagrin Falls Park Community Center. Please bring non-perishable food items to the Chagrin Falls Historical Society & Museum and place in the red bin on our side porch. If we are open, you may place them inside the door. Sign your name on the clipboard inside the red bin and you will be entered into a raffle for a chance to win two 2020 Home Tour tickets!