Our annual Gala fundraiser is back but still a little different due to COVID. We will have our Gift Basket Raffle during our Backyard BBQ Bash on Saturday, August 21 from 5:30-8pm. If you are unable to join us at the event but would still like to support the Historical Society by purchasing raffle tickets then you can do so now!
Tickets are sold in groups of six for $20. Please let us know below how many tickets you would like to put towards each prize. e.g.: 3 for #2, 1 for #5, 2 for #4. If you would like to buy more than one group of six, there will be an opportunity to adjust the quantity.
When you click Enter Payment Information, you must click the PayPal link BUT after you can choose the option to pay by debit/credit card. You do not need a PayPal account to purchase online.
If you do not want to purchase online you can call us or stop by the museum BEFORE SATURDAY AUGUST 21ST. ONLINE BASKET SALES WILL STOP ON FRIDAY AT 11:59PM! This will give staff time to allot all the online tickets prior to the beginning of the live event on Saturday evening.
Winners will be drawn on Saturday, August 21, 2021. You do not need to be present to win but you need to be able to pick up your basket at a later date.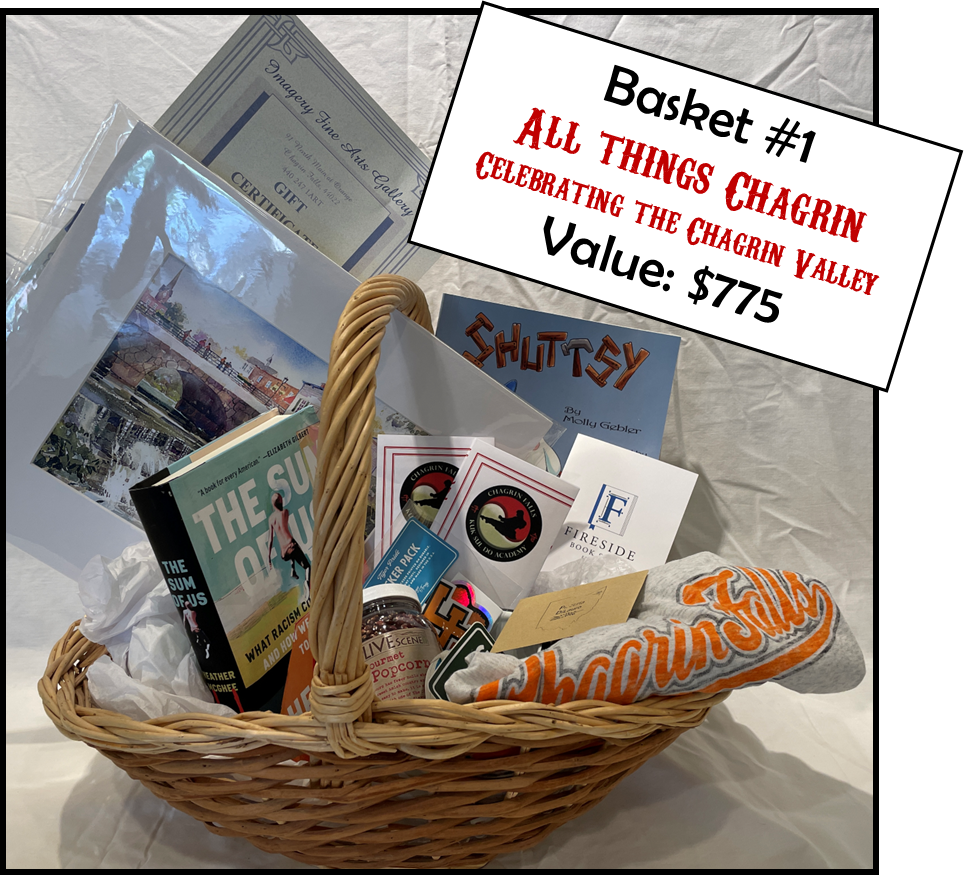 #1 All things Chagrin basket contents:
-Fireside Book Shop $25 Gift Certificate
–The Sum Of Us courtesy of Fireside Book Shop
-3 books- Shuttsy; Sherman; Mortimer
-Chagrin Falls matted print from Imagery Fine Arts
-Imagery Fine Arts Gallery $50 framing certificate
-One month gift certificate for Kuk sol Do courtesy of Chagrin Falls Kuk Sul Do Academy
-One month gift certificate for Brazilian Jiu Jitsu courtesy of Chagrin Falls Kuk Sul Do Academy
-Pizzeria DiLauro $100 Gift Card
-Chagrin Falls tee, Coasters, Stickers from Sugar & Frogs, LLC.
-Gourmet Red Popcorn
-Popcorn enamel bowl
-Chagrin Falls Popcorn Shop basket (not pictured)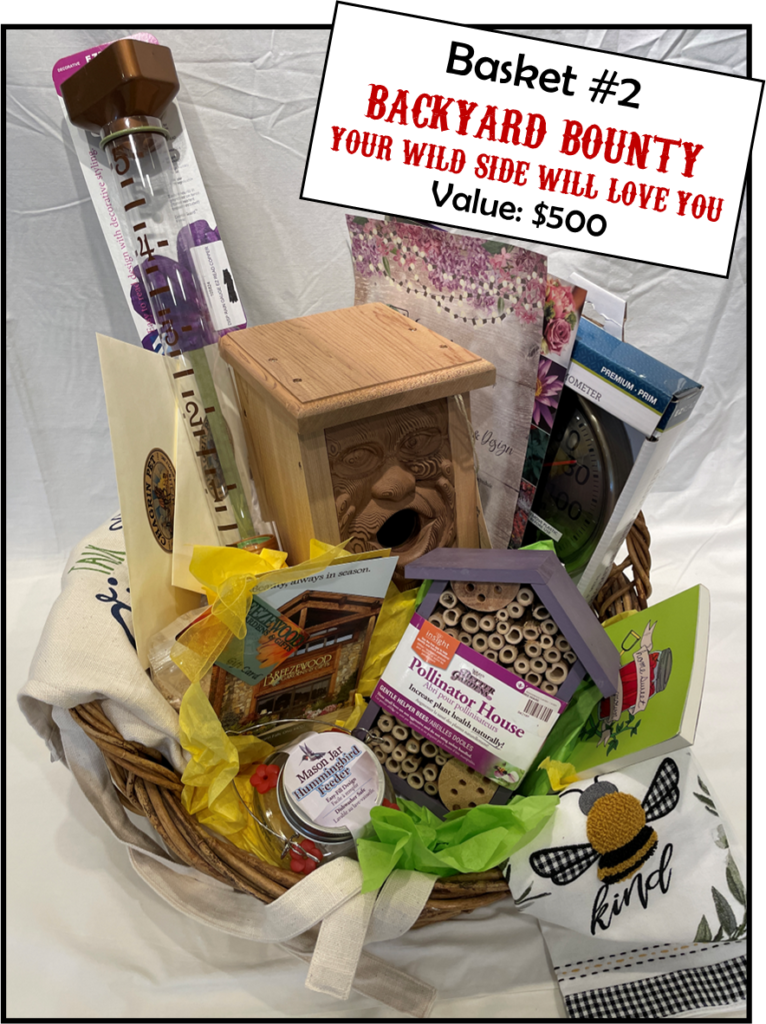 #2 Backyard Bounty basket contents:
-Lowe's Greenhouse & Gift Shop $250 Landscape Design Consultation Certificate
-Breezewood Gardens & Gifts $30 Gift Card
-Chagrin Pet & Garden $25 Gift Certificate (x2)
-dishtowel
-Peanut Butter log
-Bee House
-Carved Birdhouse- Mother Earth
-Rain gauge
-Antique brass dial thermometer
-Apron- Talk dirt to me
-Hummingbird mason jar feeder
-Homesweet Homegrown Book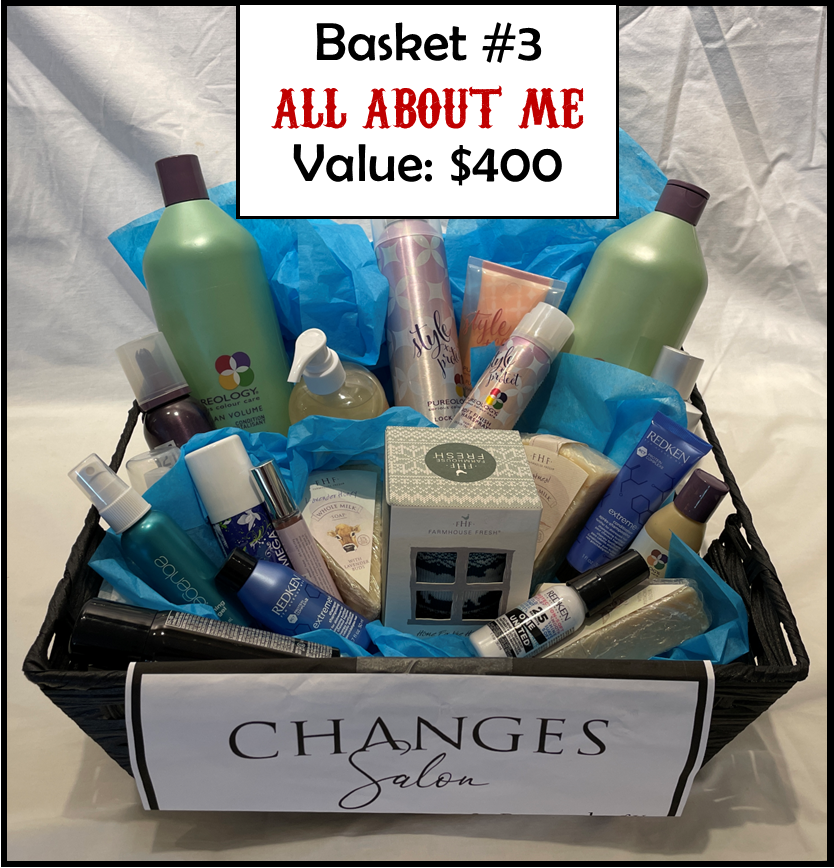 #3 All About Me basket contents
A variety of items courtesy of Changes Salon!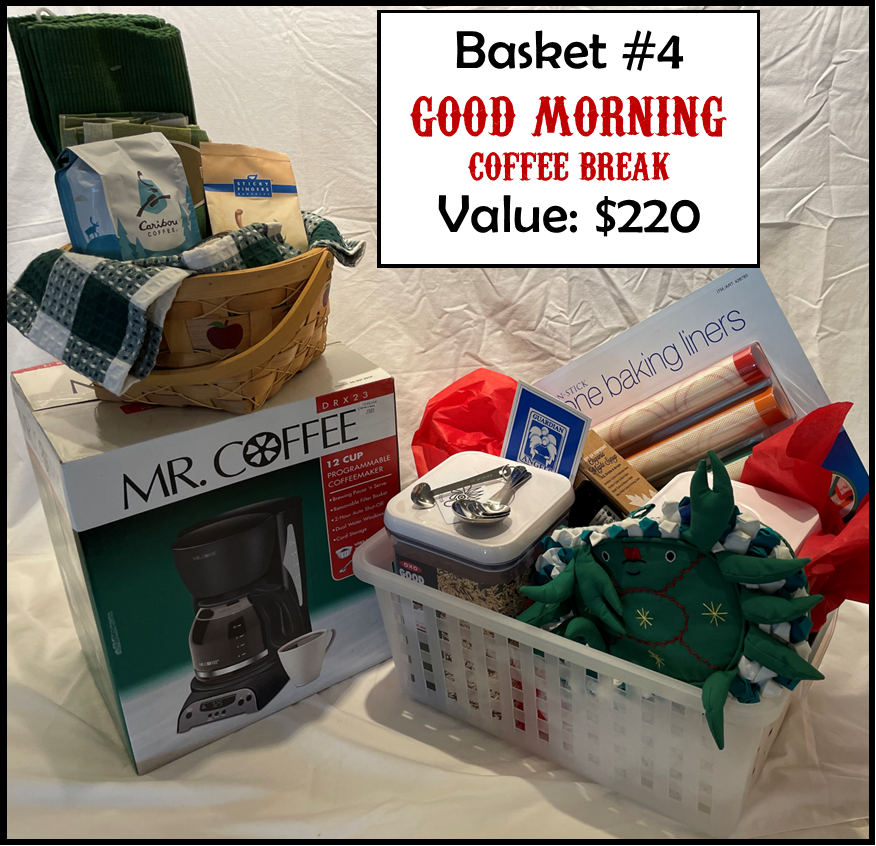 #4 Good Morning basket contents all courtesy of Bill & Pat Diesing of Guardian Angels:
-$25 Sleepy Rooster gift card
-Mr. Coffee coffeemaker
-2 Good Grips canisters
-silicone baking sheets
-Vermont maple syrup
-caribou coffee
-Sticky Fingers Scones
-Stonewall Kitchen Walnut Butter
-dish cloths; place mats
-crab hot pad
-apple basket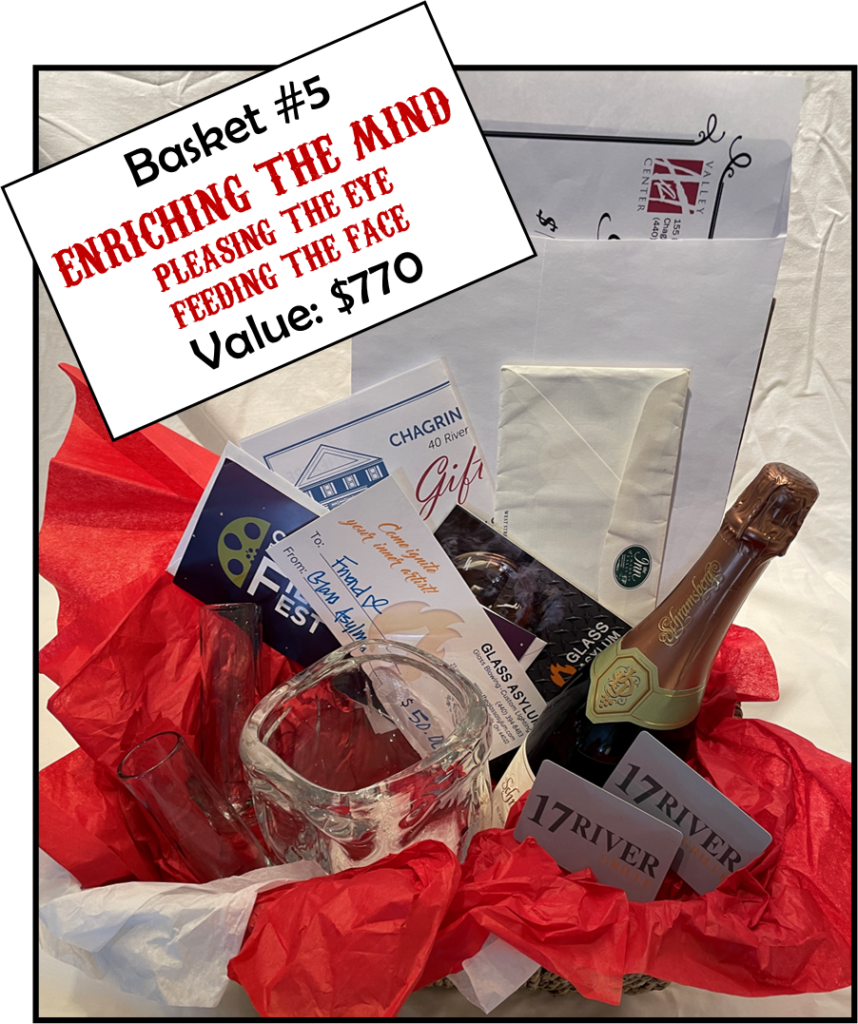 #5 Enriching the Mind basket contents
-17 River Grille $50 Gift Card
-17 River Grille $50 Gift Card
-Chagrin Documentary Film Fest $100 gift certificate
-Inn of Chagrin Falls Jacuzzi Suite- excludes taxes and holidays, no cash value
-Glass Asylum vase
-Glass Asylum champagne flutes
-Glass Asylum gift certificate
-Chagrin Valley Art Center $100 gift certificate
-Chagrin Valley Little Theatre gift certificate for 2 tickets to a performance during the 2021/2022 season
-bottle of brute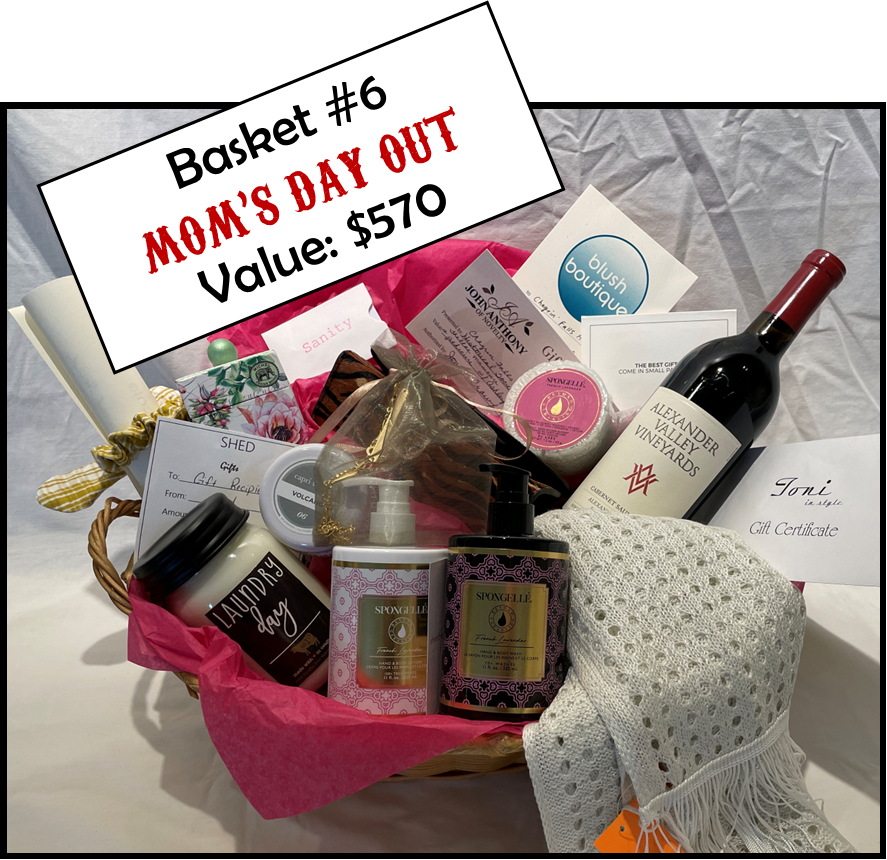 #6 Mom's Day Out basket contents
-Blush Boutique $25 Gift Card
-Chico's $50 Gift Card
-Tiger eyeglass case
-Lara Gold Hope Love necklace
-Alexander Valley Vineyards Cabernet Sauvignon
-John Anthony of Novelty, Inc. gift certificate for a gel manicure (shellac) and pedicure with Ashley
-Pink Cactus hand & body lotion
-Nola True $25 Gift Certificate and scrunchie
-Nouveau Vie candle and scarf courtesy of Nouveau Vie
-Sanity $50 gift card
-3oz bubblegum candle courtesy of Sanity
-Toni In Style $50 Gift Certificate
-Spongella lotion, body wash, and exfoliate courtesy of SHED
-SHED $20 Gift Certificate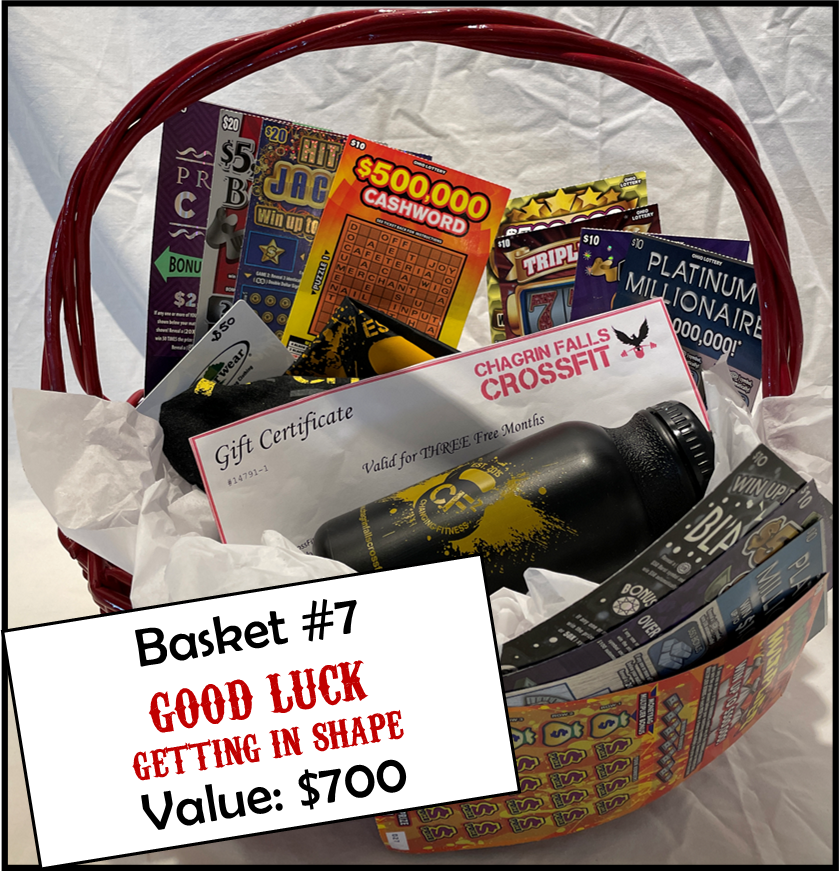 #7 Good Luck basket contents
-$150 worth of scratch off lottery tickets
-3 months of free membership which includes group CrossFit classes, Peloton Access, and Open Gym Facility. Courtesy of Chagrin Falls CrossFit
-$50 Arborwear Gift Card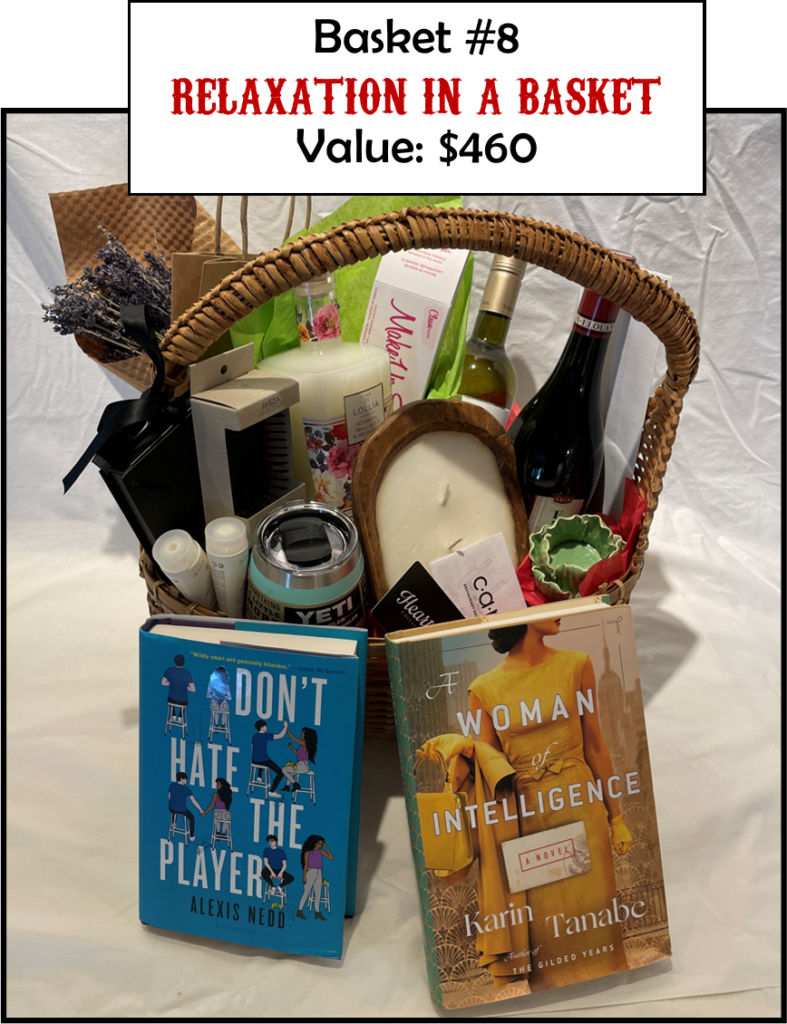 #8 Relaxation in a Basket contents
-Chef Art Pour $25 Gift Card
–A Woman of Intelligence courtesy of Fireside Book Shop
–Don't Hate The Player courtesy of Fireside Book Shop
-Yeti Cooler
-Heartwood $15 Gift Card
-Hedges Lollia Bubble Bath
-John Roberts Salon 30 minute massage
-John Roberts Salon mini paddle brush, hand & foot relief creams
-Sanity Makeup eraser
-Petite Bread Bowl Candle
-Succulent Tealight holder
-White Magnolia $75 Gift Card
-SHED dried lavender
-Elouan Pinot Noir
-Terra Alpina Pinot Grigio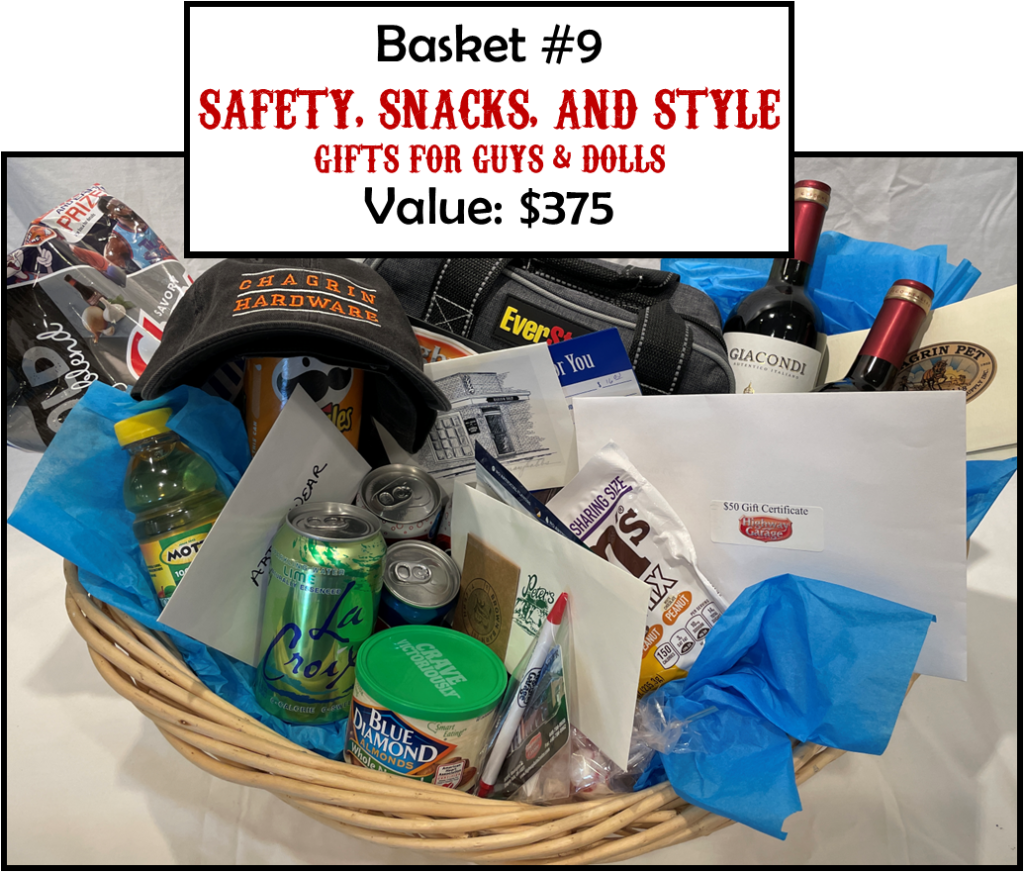 #9 Safety, Snacks, & Style basket contents
-Highway Auto $50 Gift Certificate
-Emergency Car Kit courtesy of Highway Auto Garage & Body Shop
-Assortment of snacks
-Arborwear $50 Gift Card
-Brown Barn Tavern $25 gift card
-Chagrin Hardware baseball cap
-Chagrin Pet & Garden $25 Gift Certificate (x2)
-Mug & Brush gift certificates for 3 haircuts
-Peter's Store for Men $100 gift certificate
-Giacondi Nero D'Avola Red Wine (x2)

#10 Ride In Style basket contents
-4 hour limo ride courtesy of Murphy Funeral Home
-Hyde Park Group $25 Gift Card (x2)
-bottle of Prosecco & champagne flutes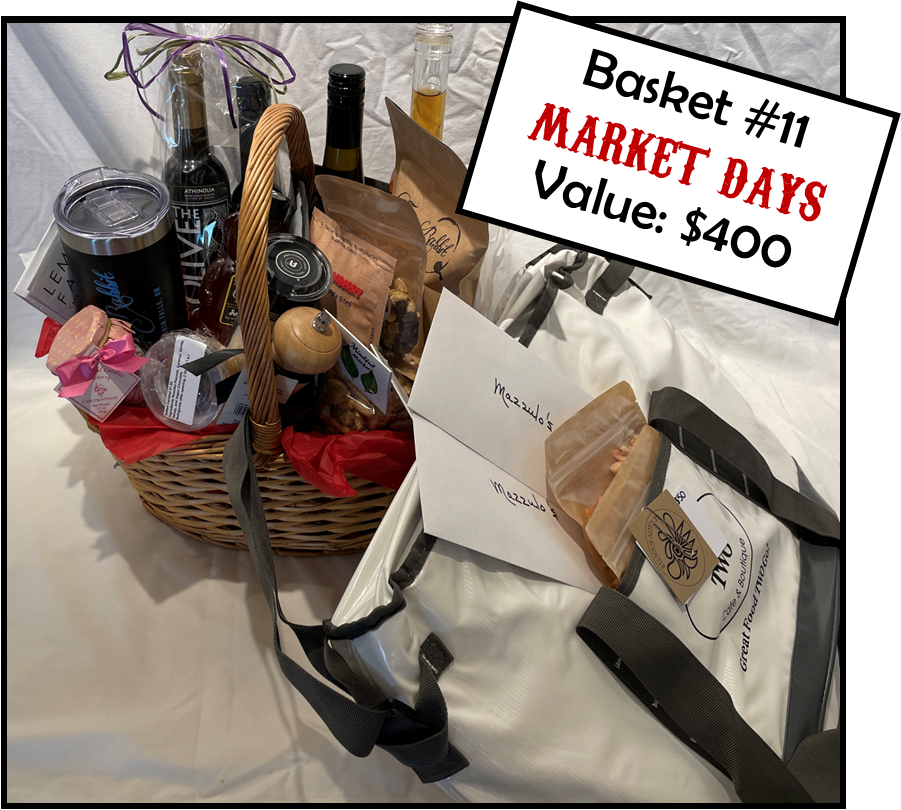 #11 Market Days basket contents
-Two Café & Boutique food to go tote bag
-Lemon Falls $40 Gift Card
-Mazzulo's $20 Gift Certificate (x2)
-Sleepy Rooster $50 Gift Card
-Tame Rabbit Coffee & travel mug
-Sicilian Lemon BV and Athinolia Oil courtesy of The Olive Scene
-Olive Scene $10 Gift Card
-honey, candy, salt & pepper grinders from Lemon Falls
-Johnson Estate Maple sweet wine
-Oatmeal cranberry bites; Terry butters; Mindful Snack Pack; Trail Mix smalls
-Butter Chardonnay