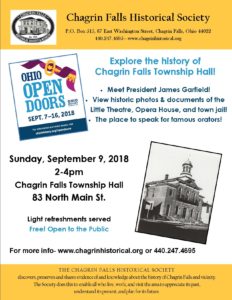 Chagrin Falls Historical Society Participates in Ohio Open Doors
Chagrin Falls Historical Society will take part in Ohio Open Doors in partnership with the Ohio History Connection, on Sunday, September 9, 2018 from 2-4pm, admission is free. Explore the history of Chagrin Falls Township Hall, the center of Village activities since 1848. It has been a library, school, lecture hall, theater and the seat of Chagrin Falls Township government. Join us for light refreshments and meet President James Garfield! Township Hall was the place to be for famous orators–President Garfield and Susan B. Anthony both spoke there. Visitors will learn through photo and document displays about the historic home of the Little Theater, Opera House and our town jail! Light refreshments will be served.
About Ohio Open Doors
Discover Ohio's amazing heritage Fri., Sept. 7, through Sun., Sept. 16, as historic buildings and landmarks across our state open their doors for special tours and events during the statewide event Ohio Open Doors. Explore fascinating places that reflect Ohio's rich heritage, some open especially for Ohio Open Doors events or offering behind-the-scenes looks that aren't ordinarily available.
All Ohio Open Doors events are free. Most are special one-day-only opportunities.
The Ohio History Connection created Ohio Open Doors in 2016 to promote and inspire pride in Ohio's heritage and to celebrate the 50th anniversary of the National Historic Preservation Act.
Signed by President Lyndon B. Johnson on Oct. 15, 1966, the Act has proven instrumental in transforming the face of communities from coast to coast, establishing the legal framework and incentives to preserve historic buildings, landscapes and archaeological sites. It drives economic revitalization by attracting investment, supporting small business, stabilizing neighborhoods and creating jobs.
The Ohio History Connection's State Historic Preservation Office administers the National Historic Preservation Act in Ohio. Many of the landmarks featured in Ohio Open Doors events are in the National Register of Historic Places, which the National Historic Preservation Act created.
"Ohio Open Doors shares stories of important landmarks right in our backyard, highlighting the history and unique nature of some of Ohio's most treasured historic places," says Burt Logan, executive director and CEO of the Ohio History Connection.
For more information about Ohio Open Doors, visit ohiohistory.org or www.chagrinhistorical.org.