The Sihler Research Center houses our extensive collection of the history of Chagrin Falls and vicinity dating from the 1830s to the present.  The collection includes maps, books on Ohio history, Chagrin Falls newspapers, diaries, family histories and obituaries, records of businesses, organizations and village events, churches and schools, the Elizabeth Rodgers Research Collection, and the Beverly Ash Geauga County Research Collection.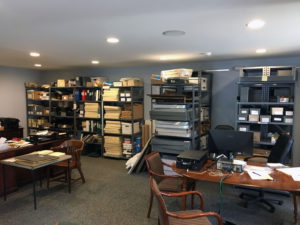 Our photograph collection includes glass plate images from the 1860s, photographs from The Chagrin Falls Exponent, images from The Chagrin Valley Times, 1970s photos of businesses and of houses within the historic districts, and numerous photographs donated by Village residents and photographers.
For help researching any aspect of Chagrin Falls history, residents, schools, or government, please contact us by phone or email using the contact information below, or drop in during business hours.