The Chagrin Falls Historical Society Museum displays both current, themed exhibits that change periodically, and permanent exhibits of life, industry, and society in Chagrin Falls.
Current Exhibits in the Gallery
Finishing Touches: the story of wardrobe accessories
March 19 through June 18, 2022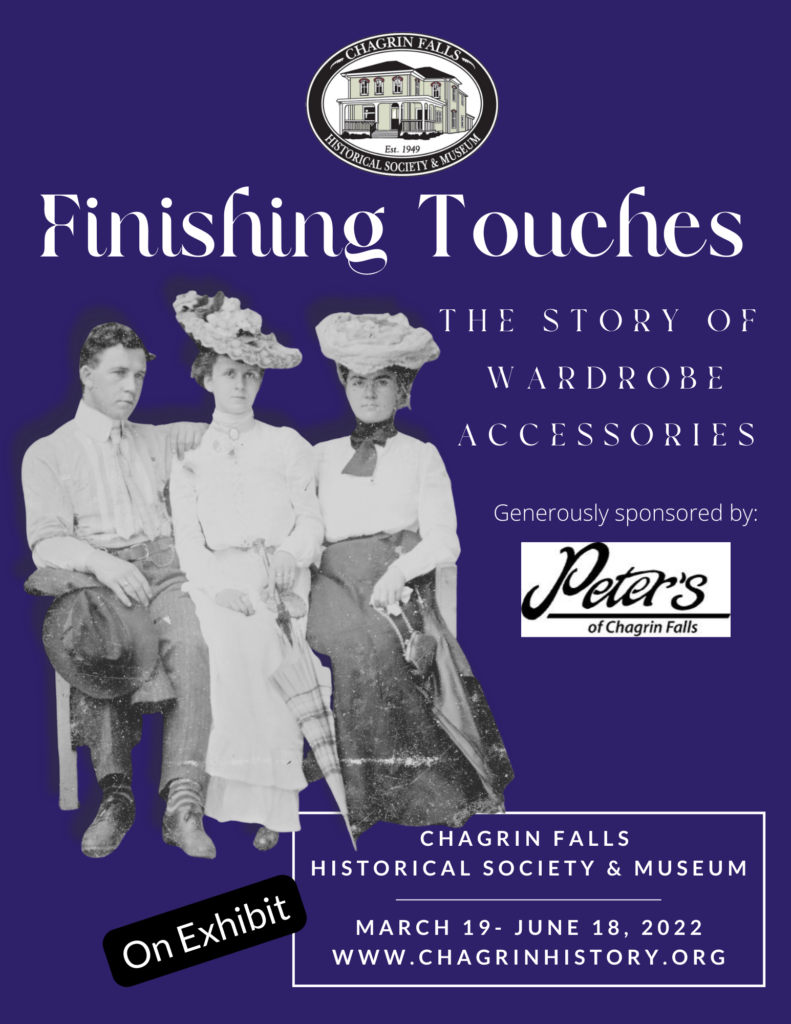 Hats, jewelry, and purses, oh my! The Chagrin Falls Historical Society & Museum's new exhibit "Finishing Touches: The Story of Wardrobe Accessories" opens March 19th and will run through June 18th. Come wander through our stylish exhibit where we'll take you back in time to a world filled to the brim with men, women, and children's unique adornments and fabulous frills. The museum is open Thursday 2-7, and Friday-Saturday 11-3. Thank you to our sponsor, Peter's Store for Men.
Admission is free but donations are appreciated.
Permanent Exhibits
Our permanent exhibits include displays of local industries, and contributions of our residents in both war and peace.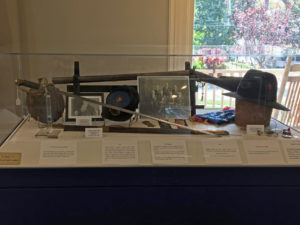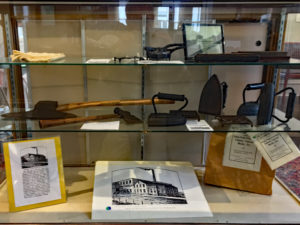 Past Exhibits:
2021
History of Chagrin Falls Park (January 30, 2021 through 2022)

Unveiling the Unseen: Chagrin's Hidden Attic on Display (October 23, 2021, through January 29, 2022)
Oil Paintings by Charles Deihl & his students (May 1 through Saturday, August 28, 2021)

Cozy & Comfortable: Quilts, Coverlets, and Bedspreads (January 30, 2021 through April 3, 2021)
2020
Welcome Christmas! An Outdoor Exhibit Experience (November 27 through December 26, 2020)

Political Campaign Memorabilia: from first to last and everything in between (September 5 through November 7, 2020)

Innovations: Change for the Better (February 27 through August 31, 2020)

2019
Under the Tree: A Celebration of Gifts for Children (November 29, 2019 through January 25, 2020)

Through Their Eyes: Chagrin Valley Veterans (May 23 through November 11, 2019)
Whirligigs, Whammy Doodles, and other Folk Art (March 12 through April 29, 2019)
2018
CHAGRIN FALLS: OPEN FOR BUSINESS! A retrospective exhibit on Chagrin Falls businesses (September 27, 2018 through February 28, 2019)