The Chagrin Falls Historical Society Museum displays both current, themed exhibits that change periodically, and permanent exhibits of life, industry, and society in Chagrin Falls.
Current Exhibits in the Gallery
Unveiling the Unseen: Chagrin's Hidden Attic on Display
October 23, 2021 through January 29, 2022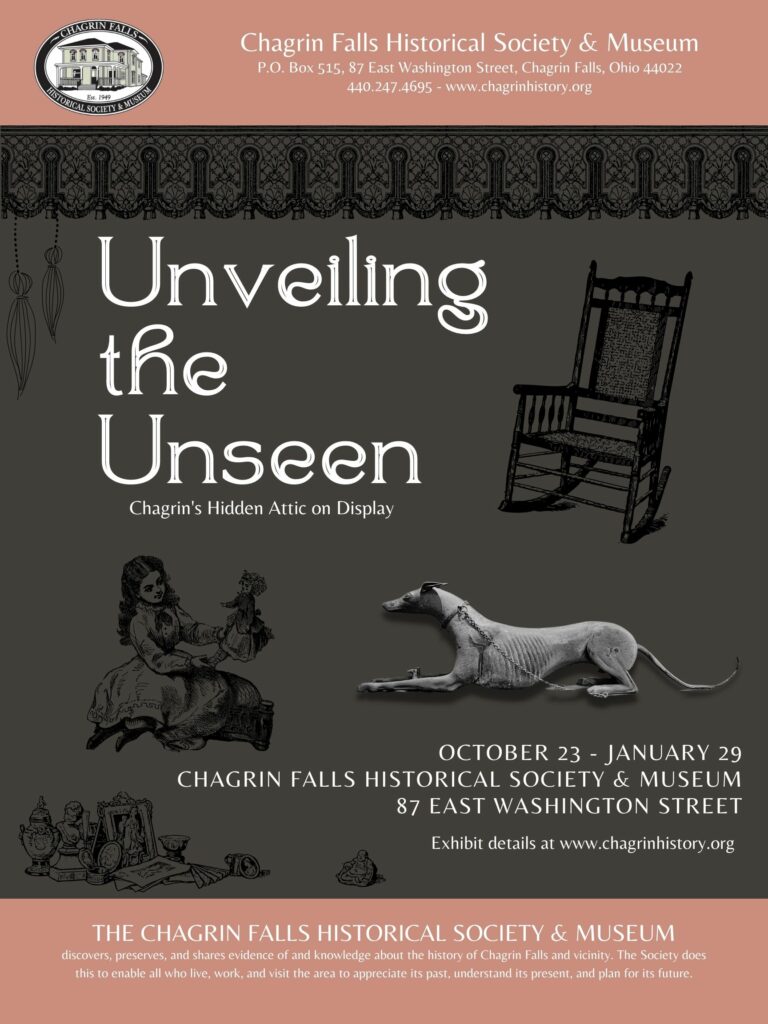 Check out our latest exhibit in the rotating exhibit gallery at the Chagrin Falls Historical Society & Museum. "Unveiling the Unseen" shows you the hidden treasures from the basement of the museum. Many of these items have rarely, if ever, been on display due to their size or fragility. This exhibit will run from October 23, 2021, through January 29, 2022. Admission to the museum is free but donations are appreciated.
During this exhibit you will see a few "Help Me" signs. These are objects that need extra care which only conservation professionals can provide. Visitors will be able to donate any amount to a specific object that catches their eye, or we encourage you to make a general donation to our Conservation Fund. To make a donation now click here.
Museum Hours:
Thursdays: 2-7pm
Fridays and Saturdays: 11am-3pm
Or by appointment
Admission is free but donations are appreciated.
COVID-19 GUIDELINES: Masks are optional but encouraged.
We ask visitors to sign in at the door and keep socially distant while in the museum.
The History of Chagrin Falls Park
This exhibit has been extended beyond April 3, 2021. Please call the museum to schedule your visit 440-247-4695.
The Chagrin Falls Historical Society & Museum invites you to learn the history of Chagrin Falls Park. Through our Photo Archive and research conducted by Historian Andrew Wiese, learn about how the area called Chagrin Falls Park began and how the community has grown throughout history.
In conjunction with this exhibit, we are proud to announce that we are republishing Andrew Wiese's 1986 case study "A Place of Our Own: The Chagrin Falls Park from 1921-1950". Collaborating with Wiese, Chagrin Falls Park staff, and local company Windjammer Adventure Publishing, this edition will have new photographs, and portions of transcripts from Wiese's original interviews with Park residents.
All proceeds from the book will benefit the Chagrin Falls Park Community Center. Please stay tuned for a
Virtual Book Release Party & Program.
COVID-19 Disclaimer:
Masks and sign in are required, please practice social distancing.
The number of visitors allowed in the gallery at the same time will be limited.
For more information follow us on Facebook, Twitter, YouTube, and Instagram @chagrinhistory.
Permanent Exhibits
Our permanent exhibits include displays of local industries, and contributions of our residents in both war and peace.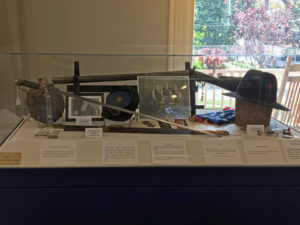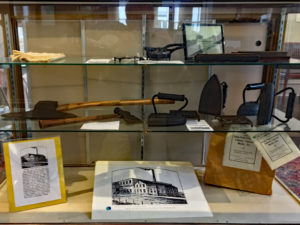 Past Exhibits:
2021
Oil Paintings by Charles Deihl & his students (May 1 through Saturday, August 28, 2021)

Cozy & Comfortable: Quilts, Coverlets, and Bedspreads (January 30, 2021 through April 3, 2021)
2020
Welcome Christmas! An Outdoor Exhibit Experience (November 27 through December 26, 2020)

Political Campaign Memorabilia: from first to last and everything in between (September 5 through November 7, 2020)

Innovations: Change for the Better (February 27 through August 31, 2020)

2019
Under the Tree: A Celebration of Gifts for Children (November 29, 2019 through January 25, 2020)

Through Their Eyes: Chagrin Valley Veterans (May 23 through November 11, 2019)
Whirligigs, Whammy Doodles, and other Folk Art (March 12 through April 29, 2019)
2018
CHAGRIN FALLS: OPEN FOR BUSINESS! A retrospective exhibit on Chagrin Falls businesses (September 27, 2018 through February 28, 2019)