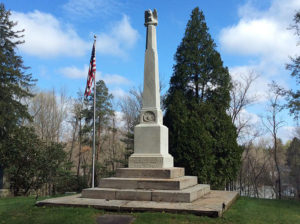 The monument in Evergreen Hill Cemetery was erected in 1867 through the efforts of Jane E. Church, sister of Henry Church, Jr. At the time, Miss Church was president of Chagrin Falls Soldiers' Aid Society, which was organized September 5, 1861 and became an auxiliary to the Cleveland branch of the Sanitary Commission. It closed June 16, 1865 with a balance of $134 which was applied toward the monument.
Miss Church was given the honor of dedicating the monument September 10, 1867. Her address is as follows:
Mr. President, Ladies and Gentlemen:
"After the close of the war in 1865, the Chagrin Falls Soldiers' Aid Society having funds remaining in their treasury that were no longer needed for the purpose for which they were contributed, namely 'to give aid and comfort for the sick and wounded soldier,' it was determined at a meeting called December first of that year that they should be appropriated toward the erection of a Soldiers' Monument; and that the organization of the society should be continued until funds sufficient had been added thereto to accomplish such object.
"After extending our happy greetings to the company of brave men who had survived all the perils of that cruel war, we turned with tear-dimmed eyes for that other band of heroes that should never receive the 'welcome home' of loving friends again; but who had yielded their lives a willing sacrifice upon that vast battlefield in defense of all we held most dear – home, country, and the endless privileges of a free people. And it was deemed fitting, as a finale to the doings of the society that they should, if possible erect a suitable memorial to those gallant dead.
"Accordingly a committee of ladies was appointed to solicit subscriptions of the citizens of the township, and in a few weeks time something more than $600 had been subscribed for the purpose. At their first meeting a committee of gentlemen was also appointed as a board of Managers to act in connection with the society. Various methods were resorted to for the raising of funds. Entertainments of different kinds were given, many of them by the Literary Club – a society that was formed for the same worthy object – and for the most part were liberally patronized by our citizens; all seeming to manifest an interest in the enterprise so that by June, 1866, the fund including subscriptions, had been increased to not less than $1250. But as this amount was not thought to be sufficient by some, the business of contributing for the monument was postponed until the present year. Of the various designs presented that of Mr. J. M. Martin of Cleveland was unanimously accepted, the sand stone base being laid by Mr. L. Marble of Bedford. And we can but express our satisfaction to those gentlemen for their very successful achievement of their handiwork.
"Though doubtless making many mistakes, meeting with some discouragements withal, and thus coming far short of what we had hoped to do, we have yet so far succeeded as to erect an enduring tribute to the memory of those brave men from Chagrin Falls who died for the preservation of our liberties. And in doing this, we trust it has not brought forgetfulness or ingratitude toward their living comrades in our midst. May we keep ever living in our hearts their noble deeds, and remember that to them we owe as a people more than we can ever bestow or even acknowledge.
"To those ladies and gentlemen who have so freely given of their time and talents, as well as means not only for this purpose but also aid the society in their endeavors to alleviate the sufferings of the soldiers during those years of peril, no words of ours are sufficient to render that need of praise which so justly belongs to them. May they have their reward in the happy consciousness of duties well performed.
"To the ladies we would say: 'Though you have labored long and well we trust you will not feel your task complete until this ground has been improved, made beautiful and attractive by such means as your good taste shall dictate. And then, as each returning spring-time shall bring forth its flowers to beautify the earth, may you bring your offerings and with your garlands adorn this sacred spot, even as the women of the South are wont to set apart a day to strew the graves of their dead with flowers, saying—
'I only know, I only care to know, You died for me – for me and country bled'
"So many of the women of the North strew flowers over the graves of their heroes who gave their lives not to destroy but to preserve a nations honor. And may the memories of this hour inspire us to dedicate ourselves with renewed fidelity to those principles for which they fought and died; thus shall we most honor and render undying the memory of the American Soldier.
"Gentlemen of the Board of Trustees – this monument, which has been erected to commemorate the deeds of those heroic men who fell in the war of the rebellion, and which is formally dedicated here today, is now committed to your care. Upon you and your successors in office rests the responsibility of preserving it from injury. May it be guarded not as an ornament only, but as a sacred memorial to liberty and its defenders. And may it be protected and cared for in such a manner that those friends and surviving comrades of the deceased who may visit this ground in future years shall feel assured that the feeling of gratitude which prompted it remains as abiding sentiment with the people of Chagrin Falls."
Jane E. Church, September 10, 1867