ONLINE SILENT AUCTION OF ARTWORK FOR HAUNTED HISTORY!
The Chagrin Falls Historical Society & Museum is hosting our annual gala at the Federated Church Family Life Center on October 27th from 6-10pm. The evening will feature entertainment by the Miles Road Band, a Magic Show by the world renowned Rick Smith, Jr.; a tarot card reader; and a Monster Mash dance lesson! Throughout the night, guests can take part in a wine pull, silent auction, 50/50 raffle, and gift basket raffle.
Our Silent Auction features many fine works of art by local artists. This is your opportunity to bid on the artwork even if you do not attend the event. Here is what you need to do-
1) Take a look at the artwork below.
2) Before October 27th- Call 440-247-4695 or email [email protected] to let us know which artwork you are starting the bid on and what your maximum bid would be for this item.
3) During our event on October 27th, our volunteer will call you if your maximum bid is reached. You will have the opportunity to place another bid or end your bidding.
4) If the silent auction closes and your maximum bid is not reached, you will still be the winner but the price will be the next incremental bid above the last written bid on the item.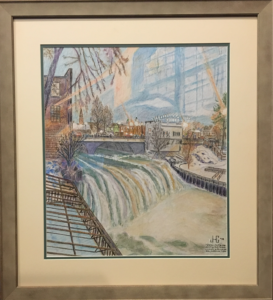 CHAGRIN FALLS—Original Watercolor by Cleveland artist John Corrigan–View from Jekyll's Kitchen on Friday, March 2, 2018, 7pm. Spectacular lighting of the Falls, Popcorn Shop and village landmarks with reflections on Jekyll's windows. Appraised Value: $3,000
Image 21″ x 18″ with wood frame 30″ x 27″
Starting bid $500
Increments of $50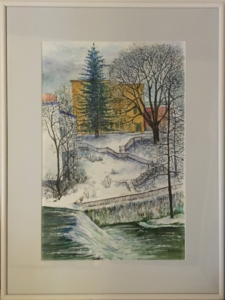 Falls in Snow by renowned Chagrin Falls artist Nancy Martt—original watercolor of the High Falls and Popcorn Shop. Value: $300
Image 14.5″ x 9.5″ with metal frame 20″x 15″
Starting bid $100
Increments of $25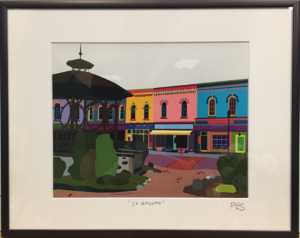 "CF Gazebo" image by award winning artist and illustrator Pam Spremulli  of Chagrin Falls–architectural rendering of Franklin Street and the 1877   Chagrin Falls Bandstand. Value: $175
Image 7.5″ x 9.5″ with metal frame 11.5″ x 14.5″
Starting bid $50
Increments of $25